Investigation Into Death of Missing Child
***8/9/14 Update: An arrest has been made in connection with the murder of Jenise Wright. The public is encouraged to report any information they may have in this case. Details

***8/8/14 Update: The body found yesterday has been identified as that of Jenise Paulette Wright. Public assistance continues to be sought in this case. Details

The following release was issued by the Kitsap County Sheriff's Office:
The Kitsap County Sheriff's Office continues its investigation into the disappearance of Jenise Paulette Wright, age 6, in East Bremerton.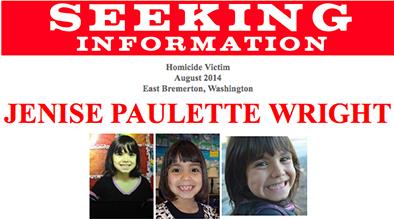 Jenise was reported missing by her family Sunday evening, August 3, from her residence in the Steele Creek Mobile Home Park, located off of Old Military Road NE, in East Bremerton.
Today, search teams located the remains of a body that appears to be that of a child. The body was found around 11:30 a.m. by special agents and professional staff from the FBI's Evidence Research Team in a forested area in the vicinity of Steele Creek Mobile Home Park.
We are awaiting confirmation of the child's identity by the Kitsap County Coroner; however it appears that the body is that of Jenise. The family has been notified.
An autopsy will be conducted by the county's forensic pathologist. The coroner will make a determination as to cause and manner of death.
This discovery is the result of the coordination of three things: valuable cooperation and information provided by community, the pursuit of investigative leads and a thorough, systematic search effort. At this time, there are no arrests in this case.
Investigators are on a different mission now, but we're staying the course. The sheriff's office will continue to leverage all specialized resources needed at a given time. Efforts are continually augmented by those of local, state, and federal partners.
The assistance of the community is the most critical. The FBI's national tip line, 1-800- CALL-FBI, was activated on Monday for this case and remains open.
Sheriff's detectives are asking the public to assist them by providing any bit of information they have about activity in or around Steele Creek Mobile Home Park during the weekend of Friday, August 1 through Sunday, August 3.
One tip about any activity or incident might lead to additional information that investigators can explore. And that lead, in turn, might help us uncover information that explains Jenise's disappearance.
We continue to emphasize that no piece of information is too small if it helps illustrate the timeline of events in the mobile home park that weekend.