Arrest Made in Child Homicide Investigation
The following release was issued by the Kitsap County Sheriff's Office:
A significant break in the homicide investigation of Jenise Paulette Wright, age 6, of East Bremerton has occurred.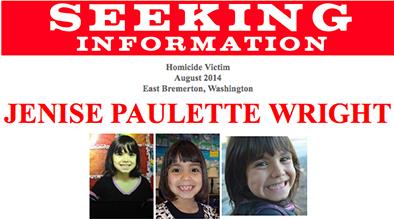 A suspect has been identified and an arrest has been made in this case.
Suspect: male juvenile, age 17.
Time of arrest: 2:50 p.m.
Location: 1300 block of NE Steele Creek Drive, East Bremerton.
The suspect's identity will not been released at this time. That aspect will come later when determined by incident command in conjunction with the Kitsap County Prosecutor's Office.
This young man has been transported and booked into Kitsap County Youth Services Center (juvenile detention) on charges of:
Murder, second degree
Rape of a child, first degree
Manslaughter, first degree
The suspect will make an initial appearance in Kitsap County District Court at 3 p.m., Monday, Aug. 11, for a review of booking charges and setting of bail.
Circumstances: Through forensic data collected during this investigation and the analysis of evidence in comparison to that data, sheriff's detectives and FBI special agents developed probable cause to take the suspect into custody. This was accomplished in conjunction with the WSP Crime Lab, which was able to forensically connect the suspect to the death of this child.
Investigators continue with the very detailed and thorough process of this investigation. It will take more time to close this case, as there is much still to do.
We promised yesterday that we would find justice for Janise.
Today, we have reached a major milestone toward delivering on that promise.
- 8/5/14 press release
- 8/7/14 press release
- 8/8/14 press release