Child Death Now a Homicide Investigation
***8/9/14 Update: An arrest has been made in connection with the murder of Jenise Wright. The public is encouraged to report any information they may have in this case. Details

The following release was issued by the Kitsap County Sheriff's Office:
As investigators involved in the investigation into the disappearance and death of Jenise Wright were deep in information processing, planning, and data analysis, a moment of silence was requested.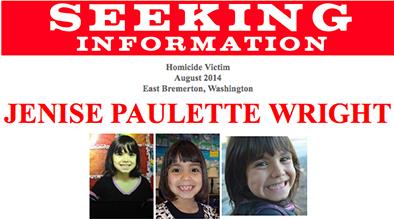 Gathered in the incident command's emergency operations center, Kitsap Sheriff's Detective Lt. Earl Smith, the incident commander, made the following announcement:
"At 4 p.m. today, Kitsap County Coroner Greg Sandstrom notified this investigative team that his office had made formal identification of the body recovered Thursday morning. The body is that of Jenise Paulette Wright.
"The autopsy has been completed. The coroner has determined that the manner of death is homicide."
With a collective moment to reflect on the moment that everyone knew would come, a short operations brief took place and the joint task force team then returned to their tasks, determined to find a resolution, and justice, to the tragedy that has befallen this community.
Twelve minutes later, the command staff appeared before gathered media representatives outside the emergency operations center, and formally notified the public of the coroner's findings.
The following points were previously made public during today's media update briefings:
Sheriff's patrol deputies will maintain a uniformed presence at the entrance to Steele Creek Mobile Home Park for the next several days to assure park residents that their privacy is respected as best as practical.
Citizen tips and leads continue to be phoned in or sent via the Internet or social media. Every bit of information, no matter how small or seemingly inconsequential, is important. Tips line number: 1-800-CALL-FBI, or 9-1-1 (in Kitsap County).
DNA Collection: voluntary compliance by those contacted for collecting a DNA sample has been extremely helpful and greatly appreciated. The purpose of collecting DNA samples is to assist in eliminating local residents as possible suspects. This allows investigators to more closely focus their investigation. DNA sample collection is non-invasive and takes a few seconds.
Chief John Batiste, Washington State Patrol, and the laboratory team at the WSP Crime Lab are providing invaluable assistance to this investigation by accelerating lab production effort with non-stop processing, verification, and analysis of submitted DNA samples. The goal is a 24-hour turnaround from initial receipt to a product prepared for comparison.
Sheriff's detectives are asking to be contacted if county residents have concerns or suspicions. Specifically:

A person responsible for Jenise's death would have a significant amount of mud covering their person. The scene where Jenise was located was a mixture of dry and wet mud, surrounded by very thick brush.
Witnesses may have noticed someone in muddy clothing that was heavily soiled.
Citizens may know of someone who may have discarded a favorite piece of clothing or a favorite pair of shoes or boots.
Persons with any information about circumstances that resemble the above points are asked to contact the tips line: 1-800-CALL-FBI, or 9-1-1 (Kitsap County).
On behalf of all law enforcement and support agencies involved in this investigation, Sheriff Steve Boyer, FBI Seattle Special Agent in Charge Frank Montoya Jr., and the incident command staff, wish to express their grateful appreciation to Central Kitsap Fire & Rescue and Central Kitsap School District for their assistance and support to this investigation, through the use of both fire station and school facilities for the purposes of this joint investigative effort.
"As law enforcement officers, we didn't know Jenise personally," said Sheriff Boyer during an evening vigil held in memory of Jenise at Crossroads Neighborhood Church in East Bremerton. "But, over the past few days we have claimed her as ours. We have come to know that she was a happy child—a bright light for those around her. A child of promise.
"No child deserves this fate—no family this loss," added the sheriff. "While we have now been able to answer some questions about Jenise, this investigation is far from over. We have much work to do... and our promise to those who knew and loved Jenise that we will complete that work. Jenise is gone, but we can, and will, find justice for her.