FBI Assisting in Search for Missing 6-Year-Old Jenise Wright
***8/9/14 Update: An arrest has been made in connection with the murder of Jenise Wright. The public is encouraged to report any information they may have in this case. Details

***8/8/14 Update: The body found yesterday has been identified as that of Jenise Paulette Wright. Public assistance continues to be sought in this case. Details
***8/7/14 Update: A child's body was found in the vicinity of the Steele Creek Mobile Home Park. The identity of the body has not yet been determined. Tips are still needed in the case. More Details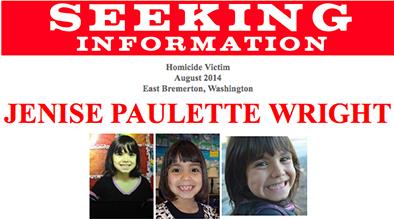 The FBI is assisting the Kitsap County Sheriff's Office (KCSO) in searching for missing 6-year-old Jenise Paulette Wright in East Bremerton, Washington.
Jenise's family reported her missing on the evening of August 3, 2014. At the time of her disappearance, Jenise lived with her family in a residential unit inside the Steele Creek Mobile Home Park in East Bremerton.
KCSO began its search for Jenise at 10:34 p.m. on Sunday, August 3, 2014. Their efforts have been continually augmented by those of local, state, and federal partners. The FBI is dedicating all the appropriate resources needed in this joint effort, including an Evidence Response Team, a regional Child Abduction Rapid Deployment team (which helps in all missing children cases, not just in abductions), the Behavioral Analysis Unit from Quantico, Virginia, additional personnel for canvassing the community for information, polygraph examiners, intelligence analysts, and other specialized personnel.
The FBI's national tip line, 1-800-CALL-FBI, has been activated for this case. We're asking the public to help investigators by providing any bit of information they have about activity in the Steele Creek Mobile Home Park during the weekend of Friday, August 1 - Sunday, August 3. Even if the information is not specifically detailed about Jenise's whereabouts, one tip about a neighbor or incident might lead to another lead that investigators can explore. And that lead, in turn, might help us uncover information that leads to bringing Jenise home. The FBI emphasizes to the public that no piece of information is too small if it helps illustrate the timeline of events in the mobile home park that weekend.