20 Years Since Shooting Killed Two Agents, Police Sergeant
FBI Director James Comey speaks at a memorial service recognizing the 20-year anniversary of the fatal attack on two FBI agents and a Metropolitan Police Department sergeant at police headquarters.
Two decades ago, on November 22, 1994, a lone gunman entered the headquarters building of the Metropolitan Police Department (MPD) in Washington, D.C. and opened fire in a squad room, killing a police sergeant and two FBI agents. For those close to the fallen, who gathered today for a memorial service marking 20 years since the tragic event, it's as if it happened yesterday.
"Twenty years have passed, but our hearts are still heavy," said former FBI Director Louis J. Freeh, who headed the Bureau in 1994. "Our hearts and memories still feel the pain of that day. It was a day that we will never forget and will always honor."
Special Agents Michael J. Miller and Martha Dixon-Martinez, of the FBI's Washington Field Office, and MPD Sgt. Joseph "Hank" Daly were fatally wounded in the attack. Another FBI agent, John Kuchta, was seriously wounded, and a 15-year-old bystander was injured. The assailant, Benny Lee Lawson, was killed in the exchange of gunfire. The 25-year-old had been questioned as a suspect a week earlier in a triple homicide investigation
Nearly 500 guests attended the memorial service this morning at St. Patrick's Church in Washington, D.C., where FBI Director James Comey, Attorney General Eric Holder, and MPD Chief of Police Cathy L. Lanier joined family members and former colleagues of the service martyrs to reflect on their lives and contributions. Family members who spoke at the memorial asked that their fallen siblings be celebrated for how they lived.
Paul Dixon recalled a story about his sister, Martha, who threatened to quit her elementary school when it wanted to move her into a higher-level class. She didn't want to leave her friends. Dixon said the same was true when her fellow squad members were attacked 20 years ago. She could have escaped, but stayed to help her colleagues.
"She was going to stay there and fight for her friends and defend them. And that's what she did. That's an illustration of Martha's character. That's the woman that was taken from us," Dixon said. "So I would encourage everybody here not to focus on the deaths of these people. It's not how they died that made them heroes, but it's how they lived."
Many recalled how dangerous the city was in 1994 and credited the work of the Cold Case Squad—created in 1991 to solve moldering homicide cases—with helping turn the city around.
"It's incumbent upon us to remember that whatever we accomplish, whatever we achieve, we achieve standing on their shoulders," said Mike Daly, brother of Sgt. Hank Daly (above at center).
The 1994 shooting was the sixth time in FBI history that two agents had been killed at the same time as a direct result of adversarial action—and the second time it happened in Washington, D.C. The inherent dangers of law enforcement were a recurring theme.
"When the moment came, when danger threatened, they ultimately gave what President Abraham Lincoln once called that last full measure of devotion to their families, to their colleagues, and to their country," said Attorney General Holder.
The two-hour service was followed by a procession to the National Law Enforcement Officers Memorial, where family members laid wreaths next to the names of their loves ones etched in the marble walls.
"Let's not dwell long on the anguish of that day," said Tony Daniels, who was in charge of the Washington Field Office in 1994. "Let's celebrate how they lived and how we can be proud of what they accomplished. Let's leave here today rededicating ourselves to what they taught us and what they represent: honor, courage, commitment."
'That Fateful Day'
Agent Who Survived 1994 Shooting Describes His Partners and the Tragic Day
It was shaping up to be a just another day on November 22, 1994, when Special Agent John Kuchta arrived at his desk at the District of Columbia Municipal Building, where FBI agents and Metropolitan Police Department (MPD) detectives worked together on a homicide cold case squad in a city derided at the time as the "murder capital" of the U.S.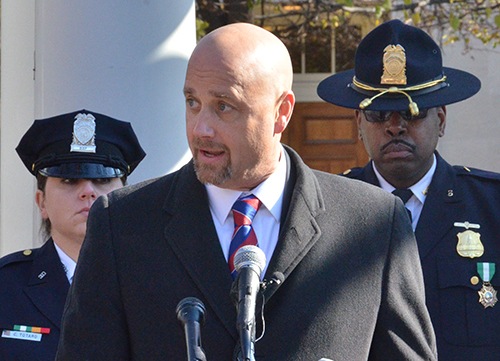 It was a Tuesday and Kuchta, right, was leafing through his files, prepping for witness interviews. He'd been an agent for just three years—his life's ambition—and believed working homicide cases with seasoned veterans was as good as it got.
Into the squad room came MPD Sgt. Henry "Hank" Daly, 51, the squad's leader and a 28-year police veteran, and FBI Special Agent Michael Miller, a 41-year-old Maryland native who had 10 years in the Bureau. Another FBI agent, Martha Dixon-Martinez, a 35-year-old Pittsburgh native and seven-year-veteran, was at her desk in the adjoining room. In typical form, the third-floor office was abuzz with the energy and optimism of a new day—another opportunity, in Kuchta's words, to "make the city right."
Then, at about 3:15 p.m. everything changed. A 25-year-old male entered the municipal building, arrived at the Cold Case Squad office, pulled an assault weapon from his coat, and began firing. Sgt. Daly and Special Agent Miller were fatally struck. Kuchta was hit multiple times but returned fire a dozen times as he went down to the floor. Hearing the shots, Special Agent Dixon-Martinez drew her weapon and shot the suspect, who died at the scene. Dixon-Martinez was fatally wounded in the exchange.
"There's not a day that goes by that I don't recall what happened," said Kuchta, who is still an agent today in the FBI's legal attaché office in London. "Something like that doesn't leave you."
On the eve of the 20-year-anniversary of the shooting, Kuchta attended a memorial service in Washington D.C. for his fallen colleagues. In remarks he delivered at the National Law Enforcement Officers Memorial, where his slain colleague's names are etched in marble, Kuchta recalled the traits that helped define his friends.
"Mike was always the first to remind us that although areas were overtaken by lawlessness and despair, good people wanting to do the right thing lived in those destitute neighborhoods. They just needed someone to show them the way." In an interview, Kuchta described Miller as the consummate family man—two young children, coach for his son's soccer team—and "the proverbial good guy."
"He wanted to be in the fight because he knew the gravity of what he was doing," Kuchta said. "He thought it was his calling to be working these cases."
"Martha," Kuchta said, "had the toughness and tactical street-smarts you would expect from a seasoned agent who grew up with four brothers. With a kindness unmatched, Martha was a realist but remained an optimist. She, too, thought the city and the cause was worth fighting for."
Kuchta described police Sgt. Daly as a font of wisdom—a grizzled veteran who had seen his city slip from grandeur, who told stories about the old neighborhoods so the younger officers could picture what was being lost. "He was always like a teacher," Kuchta said. "He wouldn't tell you what to do. He would show you the way."
"He could have retired," Kuchta said in his remarks. "But he wasn't going to rest until he had reclaimed the city for its people."
"Like Martha, Mike, and Hank," Kuchta said, "members of the Cold Case Squad and D.C.-area law enforcement saw the work as a higher calling. And as we reflect over the transformation of Washington, D.C. since November 22, 1994, we more fully value the historical significance of their valorous acts of that fateful day."