A woman who churned out thousands of fake coupons was sentenced to more than 12 years in prison and ordered to pay $31.8 million in restitution—a conservative estimate of what she helped steal from stores, restaurants, and product makers.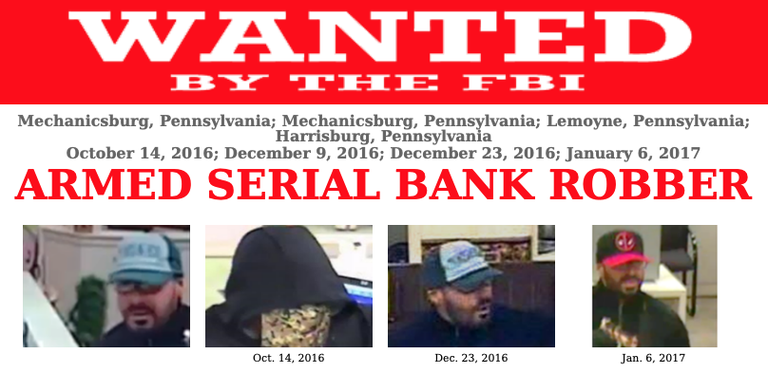 The FBI is now offering a reward of up to $25,000 for information leading to the arrest and conviction of a suspect wanted for the armed robberies of four banks in and around Harrisburg, Pennsylvania, in a three-month period in 2016 and 2017.
Anyone with information on these robberies or this subject is asked to call FBI Philadelphia at 215-418-4000; tipsters can remain anonymous.
William J. Green, Jr. Building
600 Arch Street, 8th Floor
Philadelphia, PA 19106
(215) 418-4000
County covered: Philadelphia
Special Agent in Charge

Bradley Benavides (Acting) 

Assistant Special Agents in Charge
Anthony Alimenti (Acting)
James Christie

Brian Herrick

Steven McQueen

Lilian Perez
Senior Supervisory Intelligence Analyst
Frank Wilk
Administrative Officer
Anne Hanko
Resident Agencies
Along with our main office in Philadelphia, we have eight satellite offices, known as resident agencies, in the area.
Allentown, PA

Counties covered: Berks, Lehigh, Northampton, and Schuylkill

Fort Washington, PA

Counties covered: Bucks and Montgomery

Harrisburg, PA

Counties covered: Adams, Cumberland, Dauphin, Franklin, Lancaster, Lebanon, Perry, and York

Newtown Square, PA

Counties covered: Chester and Delaware

Scranton, PA

Counties covered: Carbon, Lackawanna, Luzerne, Monroe, Pike, Susquehanna, Wayne, and Wyoming

State College, PA

Counties covered: Centre, Fulton, Huntingdon, Juniata, and Mifflin

Williamsport, PA

Counties covered: Bradford, Cameron, Clinton, Columbia, Lycoming, Montour, Northumberland, Potter, Snyder, Sullivan, Tioga, and Union

South Jersey, NJ

Counties covered: Camden, Gloucester, and Salem