Forty-seven suspects have been charged with defrauding a federally funded child nutrition program out of more than $250 million.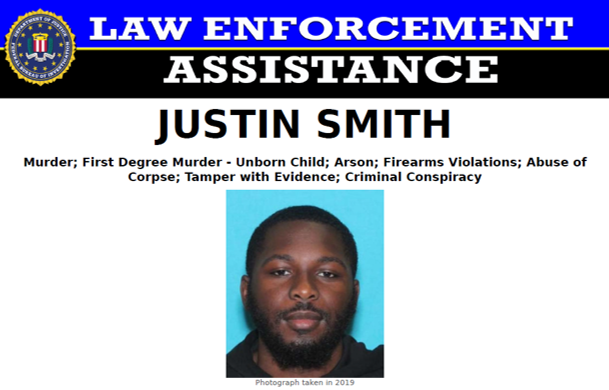 FBI Philadelphia continues to work with the Philadelphia Police Department to find Justin Smith, charged with the 2021 murder of his girlfriend and her unborn child. The FBI is now offering a reward of up to $25,000 for information leading to Smith's location and arrest.
Anyone with information on his location is asked to call FBI Philadelphia at 215-418-4000 or go to tips.fbi.gov; tipsters can remain anonymous.
Reporting Crime
You can report suspicious activities and crime by contacting your local FBI office 24 hours a day, seven days a week. You can also submit a tip electronically at tips.fbi.gov.
Visit FBIJobs.gov for information on current hiring and recruitment opportunities, including internships and collegiate hiring.
William J. Green, Jr. Building
600 Arch Street, 8th Floor
Philadelphia, PA 19106
(215) 418-4000
County covered: Philadelphia
Special Agent in Charge
Jacqueline Maguire

Assistant Special Agents in Charge
James Christie

Brian Herrick

Lilian Perez
Gabriel Poling
Brian Tosh

Senior Supervisory Intelligence Analyst
Frank Wilk
Administrative Officer
Anne Hanko
Resident Agencies
Along with our main office in Philadelphia, we have eight satellite offices, known as resident agencies, in the area.
Allentown, PA

Counties covered: Berks, Lehigh, Northampton, and Schuylkill

Capital Area, PA

Counties covered: Adams, Cumberland, Dauphin, Franklin, Lancaster, Lebanon, Perry, and York

Fort Washington, PA

Counties covered: Bucks and Montgomery

Newtown Square, PA

Counties covered: Chester and Delaware

Scranton, PA

Counties covered: Carbon, Lackawanna, Luzerne, Monroe, Pike, Susquehanna, Wayne, and Wyoming

State College, PA

Counties covered: Centre, Fulton, Huntingdon, Juniata, and Mifflin

Williamsport, PA

Counties covered: Bradford, Cameron, Clinton, Columbia, Lycoming, Montour, Northumberland, Potter, Snyder, Sullivan, Tioga, and Union

South Jersey, NJ

Counties covered: Camden, Gloucester, and Salem