New Website Targets Suspects Nationwide
Bankrobbers.fbi.gov features a gallery of suspects and a fully integrated map feature; due to the sensitive nature of these crimes, robbers will not always appear on the map if the location is not publicized.
 Bank robbers last year walked away from federally insured banks, credit unions, savings and loan associations, and armored trucks with more than $38 million in cash, according to the last full year of FBI bank crime statistics. In one in five cases, the money was recovered. In the unsolved cases, surveillance images of suspects were often posted online—on FBI wanted posters and elsewhere—to enlist the public's help.
To further that effort, the FBI has launched a new Wanted Bank Robbers website atbankrobbers.fbi.gov, the first national system of its kind.
The new site features a gallery of unknown suspects and a map function that plots robbery locations. Users can search by name, location, or other factors. Search results deliver a Wanted by the FBI poster that contains more images, a suspect's full description, and a brief narrative of the crime.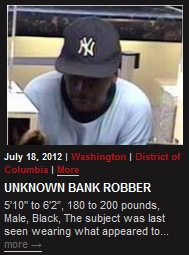 "This website is an operational tool that will help law enforcement identify and prosecute bank robbers more quickly, with the public's help," says Jason DiJoseph, who runs the FBI's bank robbery program at FBI Headquarters. "The idea is to make it easier for the public to recognize and turn in potential suspects and to draw connections between robberies in different cities and states."
The FBI has had a primary role in bank robbery investigations since the 1930s, when John Dillinger and his gang were robbing banks and capturing the public's imagination. In 1934, it became a federal crime to rob any national bank or state member bank of the Federal Reserve System. The law soon expanded to include bank burglary, larceny, and similar crimes, with jurisdiction delegated to the FBI. Today, the Bureau works with local law enforcement in bank robbery investigations, but the focus is mostly on violent or serial cases.
"Bank robbery sounds like an old-fashioned crime, but it is a dangerous and often violent criminal act that still results in the loss of lives and takes a significant toll on local communities," says DiJoseph.
Users of the new website can filter searches of serial and non-serial bank robbers. Following are some examples of serial cases:
The AK-47 Bandit is sought in California, Idaho, and Washington for multiple bank robberies. The suspect often wears tactical gear and is armed with an AK-47-style assault rifle. Details
A white male, aged 30-40, is wanted in Washington in connection with five armed bank robberies in the Seattle area since September.Details
Two black males, believed to be in their 20s, are wanted in Virginia in connection with four armed bank robberies in March and April.
The bank crime statistics bear out the Bureau's emphasis on violent cases. While demand notes are bank robbers' most frequently used tools (2,958 times in 2011), they are followed by firearms (1,242 times) and the mere threat of weapons (2,331 times) or explosive devices (154 times). Even in cases where weapons have not been used, DiJoseph said, the risk of violence increases each time a serial bank robber strikes.
Of the 5,086 bank robberies, burglaries, and larcenies last year, 201 included acts of violence; 70 involved the discharge of firearms. Thirteen people were killed during bank robberies last year, though it was usually the perpetrator (10 incidents).
The new Wanted Bank Robbers website will include the most pressing bank robbery cases from the FBI's 56 field offices. In the coming weeks and months, new features and more suspects will be added, creating a fuller picture of the nation's most-wanted bank robbers.
Resources:
- Bank Robbers Nationwide website
- Bank Crime Reports
- What We Investigate: Bank Robbery