Help Us Find Remaining Operation Backfire Fugitives
The 1998 arson of a Colorado ski resort drew international attention to eco-terrorists—those who break the law in misguided and malicious attempts to protect the environment and animal rights.
After he was indicted in 2006 for firebombing a University of Washington research facility, Justin Solondz became an international fugitive, beginning an odyssey that would land him in a Chinese jail—and finally before a federal judge in Seattle, who sentenced him last week to seven years in prison.

Solondz, 32, was a member of an eco-terrorist cell known as "The Family," which committed an estimated $48 million worth of arson and vandalism across the Pacific Northwest and western U.S. between 1996 and 2001 under the names of the Animal Liberation Front and the Earth Liberation Front.
Help Us Find Fugitives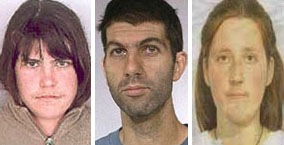 If you have any information on the three fugitives from The Family, Josephine Overaker, Joseph Dibee, and Rebecca Rubin, please contact us in one the following ways: 

- Local FBI field offices
- Oversees FBI offices
- Electronic tips and public leads form
Three members of The Family are still on the run, and there is a reward for information leading to their arrest.
The cell's most notorious crime was the 1998 arson of a Vail, Colorado ski resort that caused $26 million in damages and drew international attention to eco-terrorists—those who break the law in misguided and malicious attempts to protect the environment and animal rights. We took the lead in the Vail investigation, working closely with our local, state, and federal law enforcement counterparts. In 2004, multiple eco-terror investigations were condensed into Operation Backfire.
We need your help to bring the three remaining fugitives from The Family to justice. A reward of up to $50,000 each is being offered for information leading to the arrest of Joseph Dibee, Josephine Overaker, and Rebecca Rubin, all believed to be living abroad.
Here is what we know about the trio:
Dibee was indicted in 2006 on charges of arson, conspiracy, and animal enterprise terrorism. He is believed to be living in Syria with family members.
Overaker was indicted in 2004 and 2006 for her involvement with the 1998 Vail arson and other crimes. She is believed to have spent time in Germany and may have settled in Spain. She speaks fluent Spanish.
Rubin was indicted in 2006 for the Vail arson and other acts of domestic terrorism. A Canadian citizen, she has strong family ties to Canada and may be living there.

Investigators identified Solondz as a member of The Family in the spring of 2006, said Special Agent Ted Halla in our Seattle office. "He was traveling overseas, and we started tracking him through Europe to Russia, Mongolia, and then China. He realized we were after him," Halla said. "He liquidated his bank accounts and tried to hide his tracks online. By the summer of 2006, he disappeared in China."

The ski resort in Vail, Colorado before and after the arson.
Working through our legal attaché office in Beijing, we learned that Solondz had been arrested in China for manufacturing drugs and sentenced to prison. He served nearly three years before the Chinese released him to our custody.
As part of his plea, Solondz admitted building the firebomb that was planted in the office of a University of Washington horticultural researcher. He and The Family mistakenly believed the researcher was genetically altering trees. The fire ruined the researcher's work along with the work of dozens of other students and researchers.
"The Solondz case has been a long process," Halla said. "When you are after someone for that many years, it's a big relief to see the individual finally brought to justice."
Resources:
- Press release
- Operation Backfire story