Public Affairs Specialist Shelley Lynch
Johnson C. Smith University Wins 2022 FBI Director's Community Leadership Award
FBI Charlotte is pleased to announce Johnson C. Smith University as the recipient of the 2022 Director's Community Leadership Award (DCLA) for North Carolina. Johnson C. Smith University (JCSU) is a private, historically black university with a population of approximately 1,300 students.
JCSU has been an invaluable partner to help the FBI increase diversity and inclusion within the federal law enforcement agency. JCSU was the first North Carolina Historically Black College and University (HBCU) to host the newly developed collegiate academy, the "FBI Charlotte Collegiate Academy." This academy is an educational program that offers students firsthand exposure to the Bureau's mission. FBI Charlotte and JCSU have also partnered on various initiatives, including career fairs, the FBI Citizens Academy, a two-day on-site HBCU recruiting blitz, classroom speaking engagements, and the JCSU employer roundtable.  
Last summer, JCSU created a new community program to mentor male students called "Becoming Kings." The six-week program included academic preparation, career exploration, and cultural activities to prepare the young men for success in the fall semester and beyond. In July 2022, FBI Charlotte hosted the group and gave students a behind-the-scenes look at day-to-day operations within the Bureau.
FBI Charlotte Special Agent in Charge (SAC) Robert M. DeWitt presented a DCLA certificate to Jennifer Joyner, director of the Center for Career and Postgraduate Readiness, during a ceremony at Johnson C. Smith University on March 20, 2023. Ms. Joyner and a group of her colleagues will travel to Washington, D.C., to receive the official award. The JCSU leaders will join DCLA recipients from across the country in a ceremony hosted by FBI Director Christopher Wray on May 5, 2023.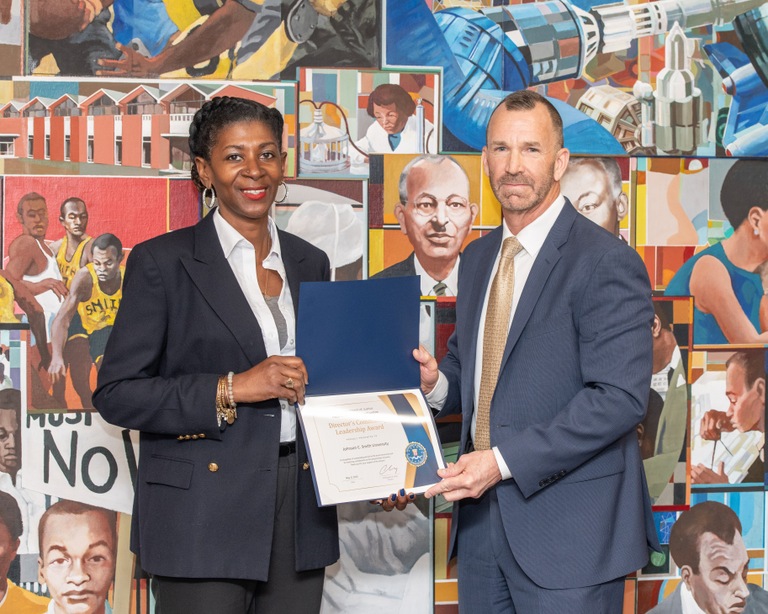 Since 1990, through the DCLA, the FBI has publicly recognized the achievements of individuals and organizations who go above and beyond the call to service by making extraordinary contributions to their communities in the areas of terrorism, cyber, drug, gang, or violence prevention and education.
"The FBI is honored to be able to recognize JCSU for the work they do every day, not only to help their students excel in school and in life, but to help the FBI become more reflective of the communities we serve. Diversity is one of the FBI's core values. The partnership with JCSU helps us work towards a more diverse, and inclusive workforce," said DeWitt.
Learn more about FBI Charlotte's Community Outreach Program.