Seeking Tips, Pursuing Justice
During Police Week, the FBI Asks for Help Finding Those Responsible for Killing or Assaulting Law Enforcement Officers

Robert Rosenbloom knew the dangers that came with police work. The New Mexico State Police patrolman, who was killed during a 1971 traffic stop on Interstate 40 near Albuquerque, talked to his wife about it before they were married. "He told me the dangers, the risks, what might happen," said Rosenbloom's widow, Linda.
Patrolman Rosenbloom was fatally wounded on November 8, 1971, after he stopped a car that investigators believe was carrying Michael Finney, Ralph Goodwin, and Charlie Hill. The three suspects fled into the desert after allegedly shooting Rosenbloom in the neck and chest, emerging weeks later to allegedly hijack a truck and then a plane that took them to Cuba, where they were sheltered from prosecution. Goodwin and Finney are believed to be dead. Hill is still living in Cuba and is wanted by the FBI and New Mexico state authorities.
"You can't just kill somebody, flee the country, and live your life," said Tammy Minicki, Rosenbloom's daughter. She was 3 when her father was killed and has only a single, fleeting memory of her dad.
Her brother, Rob Rosenbloom, was just 2 years old when his father was murdered, and though he doesn't remember his dad, he followed his career path and became a parole officer in Oklahoma. Rob said he and Tammy grew up surrounded by law enforcement and an extended family of sorts created by New Mexico State Police colleagues who were committed to remembering their dad.
He stressed that seeking justice is important for his father and for every officer who goes to work and then doesn't return home to his or her family. "Every year there are police officers being shot," Rob Rosenbloom said. "They have to know that they are not going to be forgotten."
On Wednesday, May 15, 2019, the nation will come together at the 38th Annual National Peace Officers' Memorial Service to remember law enforcement personnel who lost their lives while protecting their communities. It is one of the most solemn of the events during Police Week, which is celebrated annually to mark the daily commitment, service, and sacrifices of law enforcement.
"During Police Week, we honor the memory of those we have lost and intensify our commitment to bring to justice those responsible for killing or injuring members of the law enforcement community," said FBI Executive Assistant Director Amy Hess. "It is imperative that we continue all efforts to find—and ultimately hold accountable—those fugitives. We are hopeful the focused attention to these cases will generate new tips for the FBI and our partners."
According to the most recent figures released by the FBI's Law Enforcement Officers Killed and Assaulted (LEOKA) Program, there were 106 law enforcement officer deaths in 2018 alone; 55 of those officers were killed feloniously. Each death leaves a family mourning, a department missing a colleague, and a community going without one of the men or women who worked to keep them safe.
This Police Week, the FBI is highlighting eight cases that led to the deaths of six officers and resulted in serious injuries to three others. They date back as far as 1971, in Rosenbloom's case, and occurred as recently as 2013 with the unsolved murder of Officer Jason Ellis in Kentucky. In all eight cases, justice has not yet been served. Either the perpetrators are unknown or the person suspected or convicted of the crime has escaped or evaded capture
The FBI and the Sacramento County Sheriff's Department are seeking information that will lead to the person or persons involved in the death of Deputy Jeffrey Mitchell.
Mitchell was patrolling rural Sacramento County during the predawn hours of October 27, 2006, when he logged into his in-vehicle computer to inform dispatch that he was going to investigate a suspicious white Chevrolet van. Mitchell reported that he could see at least one person at the vehicle.
"At some point during the contact, the dispatcher heard his radio microphone click," said Sergeant Tony Turnbull, a homicide detective with the Sacramento County Sheriff's Office and friend of Mitchell's. "When they radioed back to him, there was no answer."
The dispatcher immediately called for other patrol vehicles to come to the scene. When units arrived, they found Mitchell had been shot in the head with his service weapon after a violent struggle.
Mitchell was a nine-year veteran of the Sacramento County Sheriff's Department, a skilled baseball player, a husband, and the father to a 6-year-old boy.
Turnbull said the department took his death extremely hard. "We take these risks every day, but Deputy Mitchell's murder was one of the first we had in quite a long time. And there were not a whole lot of answers right away."
Turnbull said several hundred people from multiple agencies, including the FBI, California Highway Patrol, the Elk Grove Police Department, and the Rancho Cordova Police Department, assisted in the intense early phases of the investigation. That investigation remains active for Sacramento County and the FBI, who want answers and justice for Mitchell's family and the department he served.
"This is something we would never let go," said Turnbull. "Not just because he's one of our own, but that's the way we do things. We don't forget." Turnbull said the sheriff's office has sifted through more than 4,000 tips and leads. "We follow up on every piece of information we receive. And we are looking for something that will push us over the finish line."
Anyone with information on any of the cases featured here is asked contact the FBI at 1-800-CALL-FBI (1-800-225-5324) or submit tips online at tips.fbi.gov.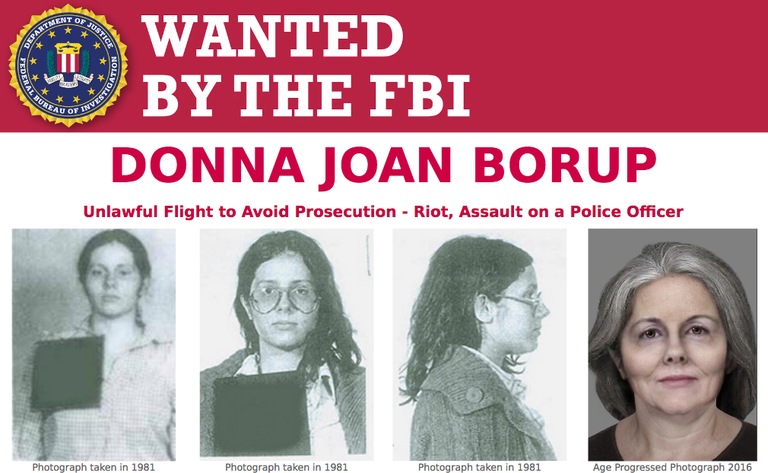 Donna Joan Borup is wanted for her alleged participation in a violent anti-apartheid demonstration at JFK International Airport in Queens, New York, on September 26, 1981. During the riot, Borup allegedly tossed a caustic substance into the eyes of a Port Authority Police Officer, leaving him partially blind. At the time, Borup was a member of the May 19th Communist Organization, a Marxist-Leninist organization which advocated the armed revolution and violent overthrow of the United States government.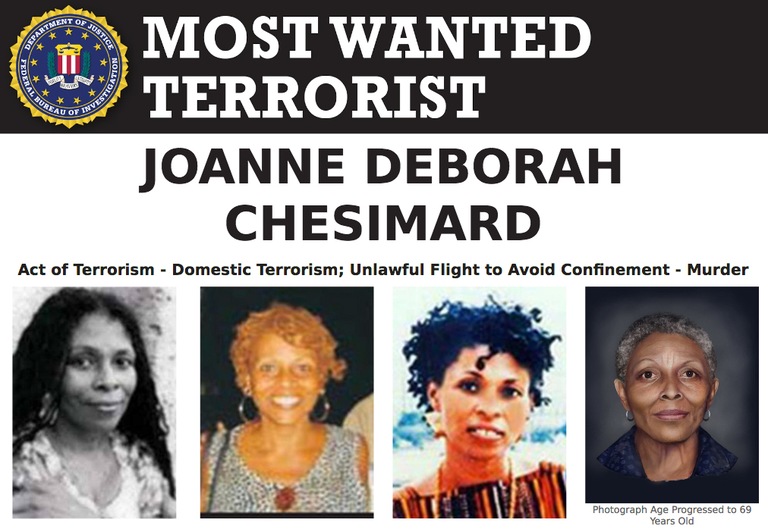 Joanne Chesimard is wanted for escaping from prison in Clinton, New Jersey, while serving a life sentence for murder. She is believed to be in Cuba. On May 2, 1973, Chesimard and two accomplices were stopped for a motor vehicle violation on the New Jersey Turnpike by two troopers with the New Jersey State Police. At the time, Chesimard was wanted for her involvement in several felonies, including bank robbery. Chesimard and her accomplices opened fire on the troopers. One trooper was wounded and the other was shot and killed execution-style at point-blank range.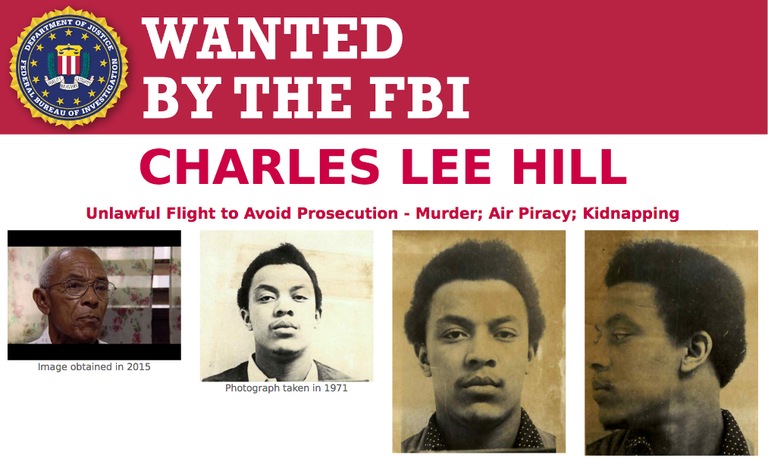 On November 8, 1971, Charles Lee Hill was allegedly involved in the shooting death of a New Mexico State Police officer during a traffic stop approximately 15 miles west of Albuquerque. On November 27, 1971, Hill and two accomplices (believed to be deceased), allegedly also kidnapped a tow truck driver at gunpoint and forced him to drive the trio to the Albuquerque International Airport. The three men are alleged to have then hijacked a Trans World Airlines (TWA) flight, re-routing the plane to Tampa, Florida. After exchanging the hostages for fuel, Hill and his accomplices flew to Havana, Cuba. Hill is still believed to be living in Cuba.