Mission Afghanistan: Legat Kabul
Part 7: An Early Presence in the War Zone


A special agent's protective vest attests to the dangers of operating in a war zone. The U.S. military tapped our expertise
for a variety of uses, including helping to disrupt and stop deadly suicide bomb attacks.
The FBI's presence in Afghanistan began in 2001 with a handful of agents whose job was to search for information regarding terror threats to the homeland. By the time our legal attaché office, or legat, was formally established in 2006, dozens of Bureau personnel were involved in a range of investigative and intelligence-gathering activities to support the U.S. mission in Afghanistan.
Ordinarily, the FBI's 61 international offices serve mainly as law enforcement liaisons with their host countries, but Legat Kabul has taken on a much broader role.
"Things are different in a war zone," said Special Agent Brian McCauley, the first legal attaché in Afghanistan. "We couldn't just be a liaison service in Afghanistan because the mission required a greater contribution. When the military and others realized what our capabilities were and the value that we added," he said, "we began to do much more."
Over time, in addition to counterterrorism work, Bureau personnel began providing law enforcement training and mentoring to Afghans, helping them build a government based on the rule of law. And our investigative and intelligence-gathering expertise was tapped by the military for a variety of uses, including helping to disrupt and stop deadly suicide bomb attacks.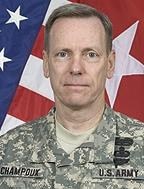 Right: (Major Gen. Bernard Champoux) "The army is not raised and trained to gather and analyze intelligence from the battlefield the same way the FBI is," said Major Gen. Bernard Champoux, commander of the Army's 25th Infantry Division who formerly served as deputy chief of staff for operations for NATO forces in Afghanistan. "The FBI brings a skill set that is not found in other organizations," he said. "The level of professionalism, training, and sense of mission that you find in the FBI is extremely admirable."
"In the early days," McCauley said, "the challenge was defining the FBI's mission, to see where we could add value. And once we did define and expand our mission," he added, "we had to fully support it." That meant proper training for Bureau personnel who deployed and the significant logistical task of providing housing, equipment, and supplies for those who would be working in a hostile and austere environment some 7,000 miles from home.
One reason the FBI has adapted so well in the war zone, Gen. Champoux believes, is the Bureau's team approach. "The FBI is accustomed to working with its law enforcement partners in task force settings—which is exactly the way the coalition forces' counterinsurgency operation works. You are part of a team, and you have to play well together."
McCauley is particularly proud of the team effort that targeted improvised explosive device (IED) cells. During his deployment, the Bureau helped dismantle four IED cells and stop 43 separate attacks.
"The FBI knows how to conduct investigations and interviews—we've been doing this for over 100 years," McCauley said. "An IED cell is really just another type of organized crime. There are leaders, recruiters, facilitators, bomb makers, and the sacrificial volunteers who carry out attacks. Our investigative and intelligence-gathering approach helped alter events and prevent attacks. Without question, our joint efforts with the military and other partners saved countless lives."
Gen. Champoux noted that McCauley's "willingness to find a way to make a contribution and to bring the FBI's capability forward made a huge difference in the success of our operations against IEDs." He added, "The FBI has been a great partner to the military in Afghanistan."