Latest Crime Statistics
Volumes Continue to Fall
The incidence of crime nationwide decreased again, according to our just released Crime in the United States report. Overall, the estimated volume of violent crimes in 2010 dropped 6 percent compared to the 2009 figure, the fourth consecutive year it has declined. For the eighth consecutive year, the volume of property crimes went down as well—2.7 percent.
The report was compiled from data submitted to us by more than 18,000 city, county, university and college, state, tribal, and federal law enforcement agencies from around the nation. It contains information on the number of reported murders and non-negligent manslaughters, forcible rapes, robberies, aggravated assaults, burglaries, larceny-thefts, motor vehicle thefts, and arsons.
Violent crime offenses were down across the board—the largest decrease was robbery, down 10.0 percent. Property crime offenses went down as well—the largest decline, 7.4 percent, was for motor vehicle thefts.
Here are some highlights from Crime in the United States, 2010:
Total number of crimes reported: 10,329,135 (1,246,248 violent crimes and 9,082,887 property crimes);
Most common violent crime: aggravated assault (62.5 percent of all violent crimes during 2010);
Most common property crime: larceny-theft (68.2 percent of all property crimes during 2010);
Top three crimes for which law enforcement reported arrests: drug abuse violations (1,638,846), driving while intoxicated (1,412,223), and larceny-theft (1,271,410);
Total number of arrests, excluding traffic violations: 13,120,947, including 552,077 for violent crimes and 1,643,962 for property crimes (the number of arrests doesn't reflect the number of individuals arrested—some individuals may have been arrested more than once);
Most common characteristics of arrestees: 74.5 percent of arrestees were male, and 69.4 percent of arrestees were white;  
How often firearms were used in crimes: in 67.5 percent of reported murders, 41.4 percent of reported robberies, and 20.6 percent of aggravated assaults; and
Total losses for victims of property crimes, excluding arsons: an estimated $15.7 billion.
UCR Data Tool: Customize Your Data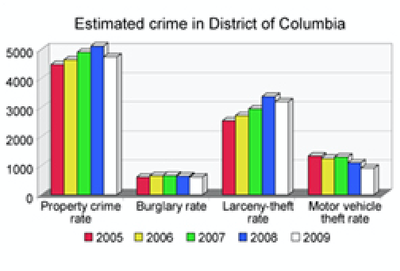 The FBI's Uniform Crime Reporting (UCR) program, which collects and publishes crime statistics, has developed an online database tool to make it easier to search for crime data going back to 1960.
The Uniform Crime Reports table-building tool provides information within the following parameters:
- National crime statistics from 1960 through the most recent year available
- State crime statistics from 1960 through the most recent year available
- City and county statistics from 1985 through the most recent year available (Data are for city jurisdictions with populations of 10,000 or more and county agencies of 25,000 or more. Not all data are available for each jurisdiction for each year.)
Beyond the crime count. The report contains what's called "expanded offense data." This information involves additional details about some of the crimes—i.e., type of weapon used; locations of robberies; type or value of items stolen; and for the offense of murder, the age, sex, and race of victims and offenders, and, if known, the relationship of the victim to the offender.
It also contains arrest data on the above crimes, plus about 20 other offenses, including forgery/counterfeiting, fraud, gambling, weapons violations, drug violations, sex offenses, and driving under the influence.
You can browse through the statistics contained in the report and choose particular information you'd like to focus on—like national data, regional data, state totals, reporting agencies, cities and counties grouped by populations, and statistics from certain metropolitan areas.
We caution against drawing any kind of conclusions from the report by making direct comparisons between cities. Valid assessments are only possible with an understanding of various factors affecting each jurisdiction. For more details, read the Caution Against Ranking.
According to FBI Director Robert Mueller, Crime in the United States can provide "valuable insight into the nature and volume of crime in small and large communities alike." It can also "offer a picture that experts can study, and as a result, produce new strategies or improve current methods of combating crime."
Resources:
- Press release