Task Force Seeks Subject in Issaquah Bank Robbery
The FBI's Seattle Safe Streets Task Force joins the Issaquah Police Department in seeking information regarding a bank robbery on Tuesday, December 1, 2015 in Issaquah, Washington.
At approximately 5:40 pm, the male in the below photos entered the Bank of America located on Front St. N, Issaquah, Washington. The unidentified bank robber is described as a white male, between 5'10" and 6" tall, with a thin build. At the time of the robbery he was wearing a black North Face ski jacket with sunglasses and a hood. The male was also wearing blue latex gloves during this incident.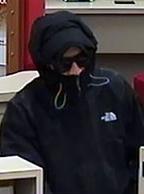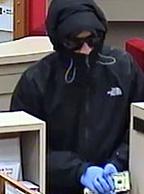 The public is asked to refrain from approaching him the subject and to contact law enforcement immediately.
Anyone with information that can help identify this individual is asked to call Crime Stoppers at 1-800-222-TIPS (8477). Callers to Crime Stoppers may remain anonymous and are eligible to receive a cash reward of $1,000 if the information given leads to an arrest and charge of the person(s) involved.