FBI and San Diego Sheriff's Department Seek Public's Assistance to Identify Chase Bank Robber
On Tuesday, November 25, 2014, at approximately 2:10 p.m., a lone male robbed the Chase Bank branch located at 607 Loma Santa Fe in Solana Beach, California.
The unknown white male entered the bank and approached a bank employee. The robber then displayed a small black handgun and stated that this was a robbery and he wanted large bills. The robber then left the bank heading southbound through the parking lot. No injuries were reported during the robbery.
The robber wore a fake beard, Santa hat, and sunglasses. He wore a fanny pack around his waist. He was clothed in jeans and a long sleeved, dark colored shirt. For more information on bank robberies, visit https://bankrobbers.fbi.gov.
Witnesses describe the robber as follows:
Gender: Male
Race: White
Age: Approximately 40 years old
Height: Approximately 6'3"
Weight: 180 to 190 pounds
Hair: Dark, matted long hair
Clothing: Santa hat, fake beard, sunglasses, jeans, dark long-sleeved shirt, fanny pack, water bottle attached to waist
Other: Leathery skin, possibly with rosacea
Bank surveillance photographs from the Chase Bank branch, located at 607 Loma Santa Fe, Solana Beach, California, on Tuesday, November 25, 2014: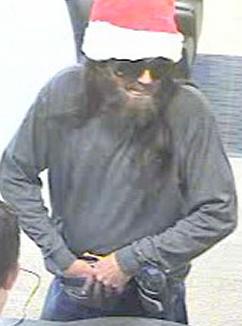 Anyone with information concerning this robbery is asked to contact the FBI at telephone number (858) 320-1800 or Crime Stoppers at (888) 580-8477. This bank robbery should be considered armed and dangerous.