(858) 320-1800 | SDPublicAffairs@fbi.gov
FBI and San Diego Police Department Seek the Public's Assistance to Identify Wells Fargo Bank Robber
A balding bank robber wearing glasses and carrying a Target plastic shopping bag is being sought by the San Diego Police Department and the FBI.
On Monday, August 18, 2014, at approximately 12:04 p.m., the Wells Fargo Bank branch located at 401 B Street in San Diego, California, was robbed by an unknown male carrying a white and red Target plastic shopping bag. At the time of the robbery, the robber approached the victim teller, leaned over towards the teller, and stated, "This is a robbery." The robber threatened to be armed with a handgun and threatened to harm the teller if she did not give him money. The teller complied with the robber's demands and provided him with a sum of money. The robber placed the money inside of the Target shopping bag and then walked out of the bank. No weapon was observed and no injuries reported.
Witnesses described the robber as follows:
Sex: Male
Race: White
Height: Approximately 5'7" tall
Weight Approximately 160 pounds
Age: Approximately 30 to 40 years old
Hair: Balding with black and gray hair on side and back of head
Clothing: Black T-shirt, tan pants, and glasses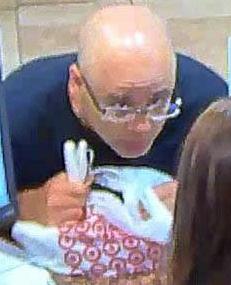 Anyone with information concerning this robbery is asked to contact the FBI at telephone number (858) 320-1800 or San Diego Crime Stoppers at (888) 540-8477. To view more photographs of wanted San Diego bank robbers, please visit https://bankrobbers.fbi.gov/.