FBI and Local Partners Host Threat Response Exercise
The FBI's Portland Division, the Tigard Police Department, and Washington Square Mall hosted a major field exercise overnight to test the response and capabilities of law enforcement to a simulated terrorist attack. These efforts are not in response to any current threat, but rather they are a method by which we can, collectively, share information and train together.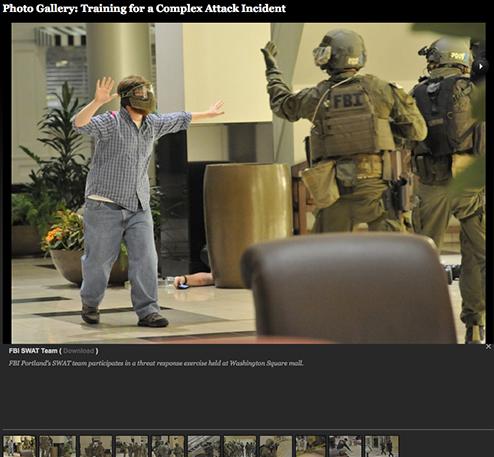 "Recent incidents at public venues—both in the United States and elsewhere—underscore the need for public safety and private sector partners to train together and to identify best practices," said Gregory T. Bretzing, Special Agent in Charge of the FBI in Oregon. "Coordination and communication are critical to saving lives in the kind of attack we tested."
Starting in 2013, all FBI field offices across the country began hosting facilitated discussions—or tabletop exercises—with public safety and private sector partners that focused on preparedness, response, and recovery efforts necessary to effectively address such an attack. This overnight training exercise represents the current phase of the FBI's Complex Mall Attack Initiative, which was developed to promote preparedness and strengthen public/private partnerships.
The exercise, which included dozens of role players serving as bystanders, hostages, victims, and bad guys, is the culmination of that work locally.
"Now more than ever, partnerships with law enforcement, such as the FBI, are integral in maintaining safe and livable communities," said Chief Alan Orr, Tigard Police Department. "Equally important are the community partnerships which serve to further strengthen our cities and make them safer. We appreciate the assistance provided by the Portland FBI and Washington Square Mall during yesterday's exercise."
During the exercise, Tigard Police tested its first response capability with Tualatin Valley Fire and Rescue, while the FBI tested its tactical, explosives, evidence collection, and hostage negotiation response skills. All agencies also practiced using what's called "unified command" for making critical decisions, and they assessed their ability to communicate and share critical information using a variety of tools.
"The safety of our shoppers and retailers is a top priority, and we strive to maintain a safe, enjoyable shopping environment at Washington Square," said Thomas Randall, Property Manager, Washington Square. "We very much appreciate our community's first responders and want to do everything we can to support their ongoing training and preparation."
Learning Tools for the Community
The FBI's Active Shooter and Mass Casualty Incidents web page serves as a primary resource for both law enforcement and the general public to learn more about critical incidents involving mass casualties. Of particular interest, an instructional video—Run, Hide, Fight—teaches the average person how to respond in an active shooter incident.
***
The FBI would like to thank the Tigard Police Department; Washington Square Mall management; the mall's parent company, Macerich; AlliedBarton Security Services; and Tualatin Valley Fire and Rescue for their assistance in planning this training.
Resources: