He was slippery, yes, but even the "Teflon Don" couldn't escape justice forever.
Despite the future nickname, John Gotti—a violent, ruthless mobster who'd grown up on the streets of New York—had been in and out of prison several times in his early career.
In 1968, for example, we arrested him for his role in a plot to steal thousands of dollars worth of merchandise. Gotti was sent to prison, but was released in 1972.
And quickly made more trouble. Within two years, we'd arrested him again for murder. Same story: he went to prison and was out in a few years. Soon after, he became a "made man" for the Gambino family, one of the five most powerful syndicates in the Big Apple. Gambling, loansharking, and narcotics trafficking were his stocks in trade.
By the early 80s, using Title III wiretaps, mob informants, and undercover agents, we were beginning to get clear insights into the Gambino family's hierarchy and activities (and into the other families as well) and were building strong cases against them as criminal enterprises.
A break against Gotti came in late 1985, when mob violence spilled out on to the streets of Manhattan.
The scene of the crime? Sparks' Steak House, a popular hangout for major criminals.
On the evening of December 16, 1985, 70-year-old-mafioso Paul Castellano—the apparent successor of recently deceased Gambino boss Aniello Dellacroce—was gunned down along with his number two in command, Thomas Bilotti, in front of the restaurant.
Gotti, who'd been watching from a car at a safe distance, had one of his men drive him by the scene to make sure his deadly orders had been carried out.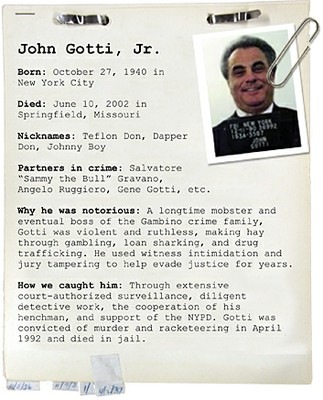 Having eliminated the competition, Gotti took over as head of the Gambino family. With his expensive suits, lavish parties, and illegal dealings, he quickly became something of a media celebrity, and the press dubbed him "The Dapper Don." Following a string of highly-publicized acquittals—helped in large part by witness intimidation and jury tampering—Gotti also earned the "Teflon Don" nickname.
Our New York agents and their colleagues in the New York Police Department, though, refused to give up. With extensive court-authorized electronic surveillance, diligent detective work, and the eventual cooperation of Gotti's henchman—"Sammy the Bull" Gravano—the Bureau and the NYPD built a strong case against him.
In December 1990, our agents and NYPD detectives arrested Gotti, and he was charged with multiple counts of racketeering, extortion, jury tampering, and other crimes.
This time, the judge ordered that the jurors remain anonymous, identified only by number, so no one could pressure them. And the case was airtight.
The combination worked. On April 2, 1992, 15 years ago Monday, Gotti was convicted on 13 counts, including for ordering the murders of Castellano and Bilotti. The head of our New York office famously remarked, "The don is covered with Velcro, and every charge stuck."
Indeed. Gotti had evaded the law for the last time. He died in prison in June 2002.