James B. Adams (Acting), February 15, 1978 – February 23, 1978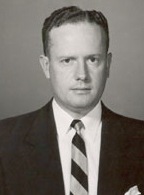 James Blackburn Adams was appointed acting director of the FBI, serving February 15, 1978 until February 23, 1978. He was born on December 21, 1926 in Corsicana, Texas and received a bachelor of arts degree and a law degree from Baylor University following a period of service in the Army. Mr. Adams became a prosecutor and legislator in Texas. He resigned his seat in the state legislature to enter on duty with the Bureau on July 9, 1951.
As a special agent, Mr. Adams served in the Seattle Division, San Francisco Division, and Administrative Services Division. In 1959, he was appointed assistant special agent in charge of Minneapolis. He subsequently served in several leadership positions before being appointed special agent in charge of the San Antonio Division in 1972. The next year he was appointed assistant director of the Office of Planning and Evaluation. He was appointed assistant to the director/deputy associate director for Investigations in 1974, served as Acting Director in early 1978, and was appointed associate director on April 6, 1978, the number two position in the Bureau.
Mr. Adams was awarded the Attorney General's Distinguished Service Award in 1978 and the National Intelligence Distinguished Service Medal in 1979. He retired from the Bureau on May 11, 1979 and returned to Texas where he served in various law enforcement related positions in Texas until 1987.