FBI Honors Wehrenberg Theatres
William P. Woods, Special Agent in Charge (SAC) of the FBI St. Louis Division, is pleased to present the 2014 Director's Community Leadership Award (DCLA) to Wehrenberg Theatres for its long-standing commitment to protecting children.
On May 1, 2015, FBI Director James B. Comey will personally present the award to Wehrenberg Theatres and other honorees at a national ceremony at FBI Headquarters in Washington D.C.
Last June, Wehrenberg launched a partnership with the FBI to help publicize safety messages and Amber Alerts. As a public service, Wehrenberg shows the brief messages during movie previews when space is available on any of its 218 movie screens. "The key to preventing crime is to be informed," said SAC Woods. "Showing public safety messages during movie previews are another way to inform people, some we may not have reached otherwise."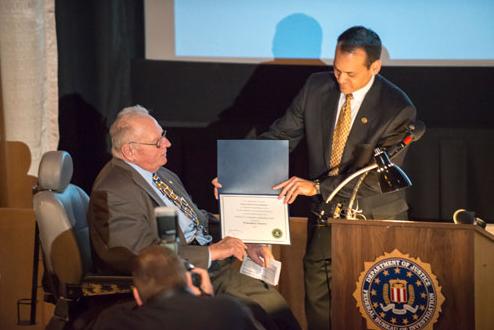 FBI Special Agent in Charge William P. Woods presents the 2014 Director's Community
Leadership Award to Wehrenberg Theatres for its long-standing commitment to protecting children.
Accepting is Wehrenberg President Ronald Krueger.


Wehrenberg, based in St. Louis, owns 16 theatres in Missouri, Illinois, Iowa, and Minnesota. It is the oldest family-owned and operated theatre chain in the country.
In 2014, Wehrenberg donated almost $1.9 million in cash and in-kind services to all its charitable partners. One initiative Wehrenberg supported for years is the Child Identification program. Wehrenberg teams up with Missouri Masonic Family and provides space at its theatres for the Masons to digitally photograph and fingerprint children. Wehrenberg donated more than $25,000 to start this program and $25,000 of high-tech equipment for these events. "We could not be more impressed with Missouri Masonic Family's MOCHIP program," said Ronald P. Krueger, President of Wehrenberg Theatres Inc. He added, "Our donation provided immediate and definitive benefits to families with small children. Anything to save one child, or to give peace of mind to parents against the unthinkable, is an easy decision to make. The good this program does has been documented as missing children have been found due in part to the services of MOCHIP and the diligent work of law enforcement agents."
Wehrenberg was also the first in St. Louis to offer free movies during the summer when children are out of school. For nearly two decades, the chain brought previously-released family films back to the big screen during summer months. Only recently, it added a nominal $1 charge to cover rising studio rental fees.
The FBI formally created the DCLA in 1990 as the principle means to honor individuals or organizations for their efforts in combating crime, terrorism, drugs, and violence to help keep America and its kids safe.
Past St. Louis DCLA honorees (years not listed did not have a recipient):
1990 Joseph Cunningham, former St. Louis Cardinals baseball player
1991 Martin Mathews, Mathews-Dickey Boys' & Girls' Club
1993 The late Jean Leible, Neighborhood Activist
1995 Pastor Harry Douma, Camp Penuel
2005 Martin Mathews (two-time honoree)
2006 Karen Aroesty, Anti-Defamation League
2007 Pastor B. T. Rice, New Horizon Seventh Day Christian Church
2008 The late Dave Sinclair, Dave Sinclair Auto Group
2009 Bill Wilkerson, "Reach Out St. Louis!"
2010 Dr. Stephen Bander, Bander Center for Medical Business Ethics
2011 Anthony Thompson, Kwame Building Group
2012 Kimberly Ritter, Nix Conference & Meeting Management
2013 Angel Baked, a social enterprise program empowering inner city teens