The Transnational Gang Threat

Part 1: Joining Forces to Meet the Challenge

CACIE participants from Guatemala listen to a translation of events at the start of the two-week training program.
The community activists, social workers, and police officers from six Central American countries and the U.S. who had arrived in the nation's capital the previous day were now assembled at the Eisenhower Executive Office Building next door to the White House. Chatting in Spanish and English, they waited for the official start of a two-week training program with an innovative approach to dealing with the problem of transnational gangs.

The FBI-led initiative known as CACIE—the Central American Community Impact Exchange program—unites civic groups and law enforcement organizations to deter gang violence and criminal activity by helping to keep young people from joining gangs. This deterrence model stresses prevention in addition to police intervention, and the 22 CACIE participants are on the front lines of that effort.
The MS-13 and 18th Street gangs are entrenched in many parts of Central America and are notoriously violent. Gang members in their teens are responsible for kidnappings and extortion, trafficking of drugs and people, and brutal murders. Often, a young person must kill someone before being fully admitted into the gang. And these crimes don't heed borders.
"The White House recognizes that violent crime and the illicit flow of drugs and money across borders can be a threat to America's national security," said George Selim, a member of the White House National Security Staff, which sponsors the CACIE initiative along with the FBI and the U.S. Department of State. "Community solutions, rather than government solutions," Selim said during CACIE's opening ceremony in April, "are really the spirit behind this effort."
The training program—the second since CACIE was established in 2013—brings together a cross-section of dedicated individuals involved in the fight against gangs. The goal is to share best practices about how to deter recruitment of gang members, whether through community-based after-school programs, police-sponsored youth corps, or other initiatives rooted in their respective communities. CACIE also promotes long-term partnerships between civic organizations and law enforcement agencies.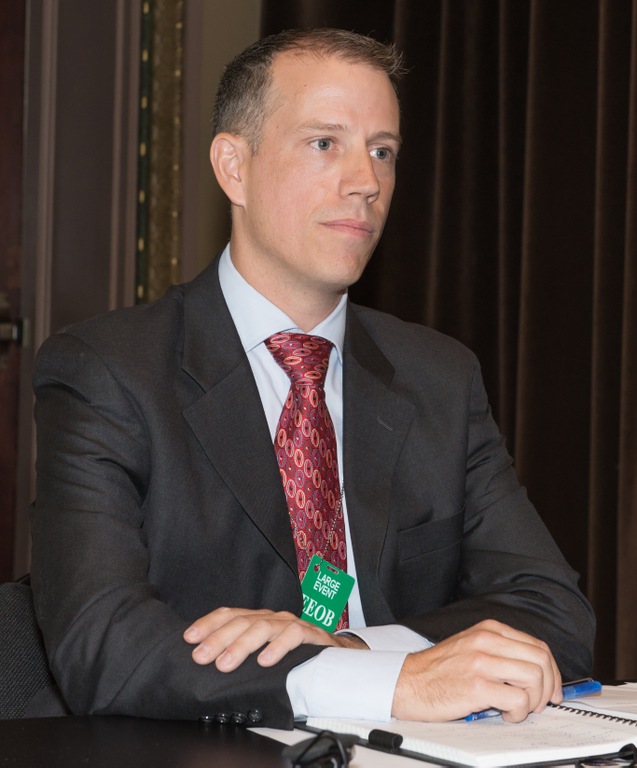 "We need to understand the enemy we are fighting," said Jason Kaplan, left, the FBI's legal attaché in El Salvador. "Gang members do not pay attention to borders. So we need to develop lasting and meaningful relationships with our international partners to deal with the gang threat." He added, "We have to establish programs to teach young people about the dangers of drugs and gangs and violent crimes. CACIE is all about prevention, and that is critical, because you can't arrest your way out of the gang problem."
Following the opening events in Washington, D.C., CACIE participants spent time at the FBI's training facility in Quantico, Virginia; in Durham, North Carolina, to learn about prevention programs that are working; and in Guatemala, where a new emphasis is being placed on community policing to fight the gang threat.
On the first day of their training, Legal Attaché Kaplan encouraged CACIE participants from Honduras, Guatemala, El Salvador, Belize, Costa Rica, Panama, and the U.S. "to walk away from this experience with plenty of business cards and good ideas. Everyone involved in the fight against transnational gangs has to be assertive," he said. "You will need to be champions for your countries and your communities, and for the young people who are growing up there right now."
Fighting the Transnational Gang Threat on Many Fronts
Through its National Gang Task Force—with funding from the U.S. State Department's Central American Regional Security Initiative—the FBI supports a number of programs targeting transnational gangs. In addition to the Central American Community Impact Exchange, other programs include:
Transnational Anti-Gang (TAG) Unit: In coordination with our legal attachés, FBI agents lead teams of national police and prosecutors in El Salvador, Guatemala, and Honduras to investigate transnational criminal gang activity in the U.S. and Central America and to counter those activities.
Central American Fingerprint Exchange (CAFÉ): This program collects and stores criminal biometric data from Central American countries. Fingerprint records are added to the FBI's Criminal Justice Information Services Division's general database, where they are accessible to local, state, and federal agencies in the U.S.
Criminal History Information Program (CHIP): The FBI provides the Salvadoran and Honduran National Police with the criminal information of non-U.S. citizen gang members deported from the U.S. back to their home countries.
Central American Law Enforcement Exchange (CALEE): This officer exchange program provides Central American and U.S. police officers with hands-on training that emphasizes operational techniques and current gang trends. CALEE encourages relationship-building and innovative approaches for gang investigations.
Central American Intelligence Program (CAIP): Provides U.S. and Central American law enforcement personnel best practices in the areas of collection, analysis, and dissemination of transnational gang intelligence.