Police Week: Honoring the Fallen
Candlelight Vigil Held for Fallen Officers
Thousands of law enforcement officers from around the country gathered last night at the National Law Enforcement Officers Memorial for a candlelight vigil to honor fallen officers. The names of more than 19,000 men and women grace the memorial's marble walls. On Monday, 321 new names were officially added, including 120 who died last year. The names of the fallen were read aloud after thousands of participants passed a flame from candle to candle. In remarks to participants, Homeland Security Secretary Janet Napoitano saluted those who wear the badge. 
"Heroes, patriots, and role models who did not flinch at the first sign of danger," she said, "but like all law enforcement, acted to protect us even though their lives were on the line."
Attorney General Eric Holder said the officers died doing what they loved.
"They helped to make this world a far better—and safer—place," Holder said. "And, despite the fact that these brave officers were taken from us far too suddenly—and far too soon—their legacies and contributions will always endure."
May 13, 2013, 9 a.m. EDT
47 Law Enforcement Officers Killed in Line of Duty in 2012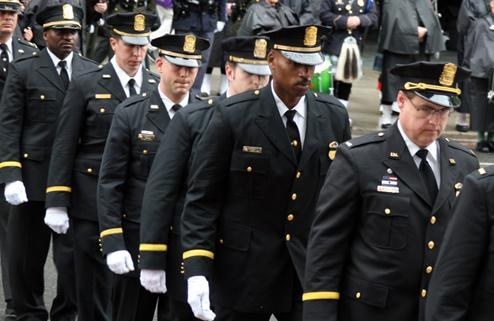 Police officers proceed from a memorial service honoring fallen law enforcement officers.

Preliminary statistics released today by the FBI show that 47 law enforcement officers were feloniously killed last year, 25 fewer than in 2011. Twelve of those killed last year died from injuries they sustained while investigating suspicious persons or circumstances. Eight were killed during traffic pursuits or stops, and five were killed in ambushes.
"Each of these losses reminds us that our safety and freedom come at great cost," Director Mueller said in a May 13 video message to law enforcement colleagues. "We must continue to do everything in our power to reduce the threats to our officers, deputies, and agents and to keep our colleagues safe from harm."
An additional 45 officers were accidentally killed in the line of duty last year, eight fewer than in 2011. More
May 13, 2013, 8 a.m. EDT
FBI Director Thanks Law Enforcement Colleagues
FBI Director Robert S. Mueller expressed thanks to law enforcement officers in the U.S. and around the world in a video message released on the first day of the annual Police Week gathering in Washington D.C.
"The recent events in Boston showed our nation once again the exceptional skills, dedication, and bravery of the men and women of law enforcement," Director Mueller said. "Unfortunately, the death of M.I.T. Police Officer Sean Collier also reminded us that protecting our fellow citizens sometimes requires these brave men and women to lay down their lives. During National Police Week, we honor the memory of Officer Collier, and indeed, all who have given their lives while serving those they were sworn to protect."