Part 4: The Shot That Pierced the Trans-Alaska Pipeline
In 2001, a resident of Livengood, Alaska—a town of less than two dozen people about 50 miles north of Fairbanks—shot a hole in the pipeline with a high-powered rifle.
Located less than 200 miles from the Arctic Circle, our resident agency in Fairbanks is one of the FBI's most remote offices—but its three investigators cover an expansive amount of territory and help safeguard some of the country's most valuable infrastructure.
Within the office's area of responsibility is the Trans-Alaska Pipeline, an 800-mile engineering marvel that has carried billions of gallons of crude oil from Prudhoe Bay to Valdez since it began pumping in 1977.
"For as long and as exposed as the pipeline is, it is definitely not a soft target on the ground or in the air," said Special Agent Bruce Milne. That's because the pipeline's owner, Alyeska Pipeline Service Company, provides extensive security and maintains strong ties with local and federal law enforcement.
"We all take the security of the pipeline very seriously," said Milne, a 25-year FBI veteran who was drawn to Alaska in part because of his interest in dog sledding (see sidebar). "Our Joint Terrorism Task Force coordinates closely with Alyeska and Alaska State Troopers to protect the pipeline," he added.
One case that stands out for Milne occurred in October 2001, when a resident of Livengood—a town of less than two dozen people about 50 miles north of Fairbanks—shot a hole in the pipeline with a high-powered rifle.
A bullet would not ordinarily breach the pipeline's exterior, which is constructed of thick steel and lined inside with several inches of high-density insulation. But the single shot from Daniel Lewis' rifle somehow did penetrate the pipeline, and oil began streaming out with tremendous force. "If you would have put your hand in front of the leak," Milne said, "the pressure would have taken it off."
FBI Agent and Dog Musher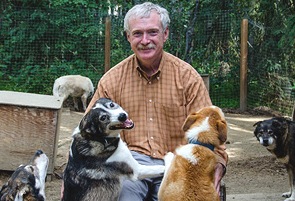 Special Agent Bruce Milne has spent 25 years in the FBI, and most of that time has been in Fairbanks—Alaska's second largest city with about 32,000 residents. "Inside the city limits it's like any other small town," he said, "but go 10 minutes out of town and it's just about complete wilderness."
Even though winter temperatures can plummet to 60-below zero and highway signs caution drivers to beware of moose, Milne is happy to be in Fairbanks because he has a passion for training and racing sled dogs.
Alaskans call it "mushing," and Milne has done more than his share. In 2007, the Boston native competed in the famous Iditarod—known as "the last great race"—and he has also raced multiple times in the equally grueling Yukon Quest.
The Iditarod begins in Anchorage each year on the first day of March and ends more than 1,000 miles away in Nome. It is an extreme test of skill and endurance, pitting man and his dog team against the elements and the clock.
"Being known in dog mushing circles has helped me as an FBI agent," Milne said. "The residents here appreciate the fact that I am a member of their community, not just somebody who will leave after a few years."
Lewis, described later in court as a career criminal, had been released from jail only weeks before the shooting incident. He was detained by troopers after he and his brother were spotted near the spill.
Milne and his colleague, Special Agent Mark Terra, were called in to investigate. They recovered the rifle—the scope had blood on it where it had recoiled against Lewis' face—made plaster foot casts at the crime scene, and began interviewing people who knew the Lewis brothers. "Alyeska security and local troopers did a tremendous amount of work on this case as well," Milne said.
Meanwhile, oil spewed from the pipeline for days before engineers could stop it. More than 285,000 gallons of crude were spilled as a result of that small bullet hole and—according to press reports at the time—the cleanup took many months and cost $13 million.

A stretch of the 800-mile Trans-Alaska Pipeline.

Lewis was charged with a range of federal and state crimes, from weapons offenses to oil pollution, criminal mischief, and driving while intoxicated. In 2002 he received a 10-year federal sentence; the following year in state court, he was sentenced to 16 years in prison. His sentences are running concurrently.
Coming less than a month after the 9/11 terror attacks, the pipeline shooting served as a reminder that protecting the country—whether from terrorists or other criminals—requires constant vigilance. "Everyone here recognizes that the stakes are as high in Alaska as anywhere else," Milne said. "That's why we work so closely with our partners to maintain the highest level of security."