Mother and Son's Companies Bilked Medicare out of Millions
A Louisiana man and his mother were sentenced in July to lengthy prison terms for fraud schemes spanning six years that bilked Medicare for more than $13 million in bogus claims. The two were among 243 doctors, nurses, and medical professionals who were charged in 2015 in what, at the time, was the nation's largest Medicare fraud takedown.
Rodney Hesson, 47, and his mother, Gertrude Parker, 63, together owned eight psychological services companies that operated in Louisiana, Mississippi, Florida, and Alabama. Hesson's companies operated as Nursing Home Psychological Services, and Parker's companies operated as Psychological Care Services. The pair was convicted in January for billing the federal health insurance program more than $25 million for services at nursing homes that were either unnecessary or not provided.
Medicare Fraud Strike Force investigators discovered patterns of billing irregularities originating from Hesson and Parker's companies beginning in 2009 and referred the matter to the FBI's New Orleans Field Office, which investigated the case with the Office of Inspector General for the Department of Health and Human Services.
"The case was difficult because there were multiple schemes in play," said Special Agent Jennifer Terry, one of several agents who worked the case. She amassed spreadsheets of data illustrating how inconceivable it was for the subjects' companies to bill what they did. "One of the things they were doing was billing impossible hours. If Mr. Hesson worked 365 days a year without taking a day off, he would have had to work in excess of 30 hours a day to be able to equate to some of his billings."
Meanwhile, at the facilities where Hesson's companies claimed to provide services, there was compelling evidence that some treatments, like psychological testing, could not have been delivered as claimed. "There were patients who were in a state where they just couldn't be tested," Terry said. "Some had severe dementia. Some of them couldn't speak at all. We found files showing some patients were completely unresponsive and yet their billings were for psychological tests."
Two psychologists who worked for Hesson admitted to repeatedly testing nursing home residents even though they were incapacitated. In their plea agreements last September, John Teal, 46, of Jackson, Mississippi, and Beverly Stubblefield, 62, of Slidell, Louisiana, admitted that some of their clients could not have meaningfully participated in testing.
The fraud case against Hesson was not without precedent. In 2011, he was indicted on state charges in Mississippi for fraudulently billing Medicaid, the joint federal and state health insurance program for low-income and needy people. In that case, he was sentenced to five years suspended jail time and three years of house arrest. The sentence in 2012 also excluded his companies from billing all federal health care programs, cutting a primary source of income. Just before his sentencing, however, he resigned from his companies, changed their names, and sold them to his mother, Gertrude Parker, who investigators say paid him for the purchase during his house arrest. The companies that emerged from that arrangement are the same companies involved in the schemes that led to charges against Hesson, Parker, Teal, and Stubblefield.
Hesson was sentenced on July 13 to the statutory maximum of 15 years in prison and ordered to pay $13.8 million in restitution. Parker was sentenced on the same day to seven years in prison and ordered to pay $7.3 million. They were scheduled to begin their prison terms this month.
Coincidentally, the pair's sentencings were on the same day federal officials announced the results of this year's nationwide sweep targeting Medicare fraud. The announcement of charges against more than 400 doctors, nurses, and medical professionals for $1.3 billion in false Medicare billings was said to be the largest action to date.
"The case was difficult because there were multiple schemes in play. One of the things they were doing was billing impossible hours."

Jennifer Terry, special agent, New Orleans Division
The Medicare Fraud Strike Force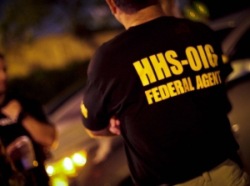 Medicare Fraud Strike Force Teams, first established in 2007, employ data analytics and the combined resources of federal, state, and local law enforcement entities to prevent and combat health care fraud, waste, and abuse. The teams operate in nine areas of the country and are comprised of staff from the HHS Office of Inspector General, the Department of Justice, United States Attorneys, the FBI, local law enforcement, and others.