Mission Afghanistan
Part 1: Our Role in the War Zone


Kabul as seen from the U.S. Embassy, where our legal attaché coordinates the Bureau's role in the region.
Night is falling in Afghanistan, and the evening call to prayer can be heard beyond the walls of the U.S. Embassy in Kabul. Inside the compound, our legal attaché is still at work, discussing investigations and other matters by video teleconference with senior executives at FBI Headquarters in Washington, where it is morning some 7,000 miles away. Here in the war zone, on the front lines of the nation's fight against terrorism, fulfilling the Bureau's mission is paramount regardless of the hour.
Our legal attaché offices—legats—are located in 61 countries around the world, but none are as large as the Afghanistan operation and few are as precariously placed. With approximately 75 Bureau personnel in the country gathering intelligence, conducting investigations, and mentoring Afghan law enforcement, "We function like a field division in a combat zone," said Legal Attaché Stephen Vogt. "The biggest thing we do here is protect the homeland, and unquestionably, our work has helped save lives."
Because the FBI is known primarily for its domestic law enforcement work, many Americans are surprised to learn just how international the organization has become, particularly since the 9/11 attacks. Today, our investigative and intelligence-gathering expertise play a key role in the war zone, a fact readily acknowledged in the highest U.S. diplomatic and military circles (see sidebar).
Our work in Afghanistan—which began in late 2001—marks the first time the FBI has conducted such operations in a combat zone overseas, beyond some limited efforts during World War II and other brief missions. 
During the next several weeks, in articles, photos, and video, FBI.gov will take readers inside Legat Kabul. From a former Russian bunker that houses the Major Crimes Task Force to a forbidding 14,000-foot mountain where our agents helped recover the remains of airplane crash victims, our coverage will highlight the work of the Bureau's dedicated men and women who volunteer for what is often a difficult and dangerous assignment.
"FBI people who want to make a difference thrive here," explained former Legal Attaché Bob Jones.Those who volunteer for 120-day assignments—some serve for a year—are among the Bureau's most talented and motivated employees. They willingly sign on for long hours seven days a week, living conditions in sandbag-reinforced trailers that make college dorm rooms look spacious, and the knowledge that they are a great distance from their loved ones and the normal comforts of home.
But the work—to help safeguard our national security—is extremely rewarding, and hundreds of Bureau personnel volunteer for the war zone. For many, the desire to make a contribution here can be traced back to the events of September 11, 2001. 

Mission Afghanistan
General David Petraeus Comments on FBI Role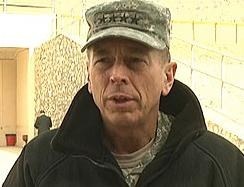 Gen. David Petraeus, commander of NATO and U.S. forces in Afghanistan, first saw the FBI's value in a war zone as a commander in Iraq. "The FBI is the premier law enforcement and investigative agency in the world," he said recently in Kabul. "When it contributes to this kind of effort, it brings unique capabilities." 
Referring to the military's mission in Afghanistan, he added, "The FBI always helps us raise our game. It brings, again, unique capabilities that can be applied across all of our different activities…and that adds enormously to what we're doing here."
Gen. Petraeus noted that the effort to establish the Major Crimes Task Force in Afghanistan began about 18 months ago during a conversation he had with FBI Director Robert S. Mueller "about the possibility of doing here what we had previously done in Iraq"—which is to help the Afghans establish effective law enforcement techniques through FBI training and mentoring.
Since the Afghanistan Major Crimes Task Force was established just over a year ago, many obstacles have been surmounted and many successes have been achieved. "The progress here," Gen. Petraeus noted during a recent visit to the task force, "has been breathtaking." 

"The 9/11 attack against the U.S. was planned in Afghanistan by al Qaeda with the witting support of the Taliban leadership at that time," noted U.S. Ambassador to Afghanistan Karl Eikenberry from his embassy residence in Kabul. "That's why we're here, and we can never forget that. The FBI mission is very central to our efforts," he added. "They're playing a vital role to defeat al Qaeda."
Special Agent Tom Krall, a New Yorker who now works in our Washington Field Office and has deployed to Afghanistan on several occasions, echoed the ambassador's sentiments. "My first taste of terrorism was on 9/11, standing near the World Trade Center as it came down. I was about a block away. I lost a lot of friends that day," he said, "and I know the attack planning started right here. That's why I volunteer to come to Afghanistan. It's very important we make sure an attack like that doesn't happen again."