Mission Afghanistan: Contract Corruption
Part 3: Holding Americans Accountable in a War Zone


FBI personnel in Afghanistan work long hours, driven in part by the dynamics of working in a war zone.
The meeting took place at the Serena hotel in Kabul. The senior construction manager made it clear he needed $190,000 in cash to award a U.S.-funded contract to build a school and a hospital in Afghanistan. He didn't realize that the "subcontractor" he was talking to was really one of our undercover agents and that his bribe demand—including the acceptance of a $10,000 good-faith payment—was being recorded on a hidden camera.
This recent case is one of many investigated by the International Contract Corruption Task Force (ICCTF), whose mission is to go after Americans and others overseas who steal U.S. dollars flowing into the war zone.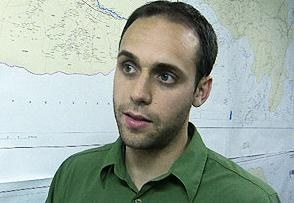 (Special Agent Derek Boucher: Right) Since Operation Enduring Freedom began in 2002, the U.S. has spent over $770 billion on private contractors who support the military and reconstruction efforts in Afghanistan, Iraq, and Kuwait. With that much money at stake, fraud and corruption are inevitable.
"Most Americans come here to help the people of Afghanistan and believe in the mission," said Special Agent Derek Boucher, who recently completed a yearlong deployment in Kabul working with the ICCTF. "But some of them are taking advantage, and our job is to bring them to justice."
The task force focuses on Americans and other non-Afghans who commit these crimes. "We're not investigating Afghans," Boucher said. "That's the job of the Major Crimes Task Force."
The crimes take a variety of forms, including stealing government property such as fuel or other supplies or demanding bribes and kickbacks. A common scheme—like the case above—involves an individual who works for a company that awards U.S. contracts to Afghan construction firms to build roads, hospitals, and schools. The individual might guarantee a $15 million contract to an Afghan subcontractor in return for 10 percent of the contract amount. The ICCTF was established in 2006 by a group of U.S. law enforcement agencies and military investigators (see sidebar) not only to combat the serious problem of contract corruption in the war zone but to build cases that can be prosecuted in U.S. courts.
If the payoff occurs, the money lost to fraud could mean that the construction project does not get completed or that it's completed in a substandard way. It might also mean that Afghan subcontractors don't get paid. "The consequences are real," Boucher said.
About the ICCTF
The ICCTF was created to investigate international fraud against the U.S. government and corrupt U.S. public officials whose crimes occur outside the country. In addition to the FBI, its members include:
- Special Inspector General for Iraq Reconstruction;
- Department of Defense Criminal Investigative Service;
- Army Criminal Investigation Command;
- Department of State Office of Inspector General;
- U.S. Agency for International Development Office of Inspector General;
- Air Force Office of Special Investigations;
- Naval Criminal Investigative Service; and
- Special Inspector General for Afghanistan Reconstruction.
To support ICCTF agents operating overseas, the FBI participates in a Joint Operations Center at our Washington, D.C. Headquarters, where interagency cases, along with intelligence and analysis, are coordinated.
ICCTF investigators in Afghanistan rely on tips from the public—similar to how FBI agents may be alerted to fraud at home. But working these cases in a war zone has its own challenges. "The most basic investigative technique is conducting an interview," Boucher said. "Back in the States I go to the person's house or call them into our office. Here, for example, I can't go to an Afghan's house because it might not be safe."
Still, the ICCTF has been successful. Since 2004, the task force has initiated nearly 700 investigations. There are currently more than 100 cases pending in Afghanistan, and since 2007, 37 people have been charged with crimes committed there, and all but one have been convicted, have pled guilty, or are awaiting trial.
"The work the ICCTF is doing is important," Boucher said. "We need to send a message that U.S. taxpayer dollars are going to the Afghan people and not into the pockets of corrupt Americans. Anyone contemplating these types of crimes should know there is no safe haven for them, no matter how far away from home they are." 
Resources:
- More about the ICCTF
- FBI's International Operations website
- Pre-deployment Training series