Making the Ultimate Sacrifice

Report on Law Enforcement Officer Deaths Released
Tragically, during 2011, 72 law enforcement officers from around the nation were killed in the line of duty, while another 53 officers died in accidents while performing their duties. And 54,774 officers were assaulted in the line of duty…all according to our just-released annual report Law Enforcement Officers Killed and Assaulted, 2011.
Here's a look at some of the data collected for this report:
While the 72 officers killed in the line of duty came from city, university and college, county, state, tribal, and federal agencies, the majority (50) were employed by city police departments.
The average age of the officers feloniously killed was 38, while their average length of service was 12 years. Forty-nine of these officers were slain while on assigned vehicle patrol.
Most of the 72 officers slain were killed with firearms, and 51 of these officers were wearing body armor at the time of their murders.
Of the 53 officers who died accidentally, 39 were killed as a result of vehicle-related accidents.
The rate of officer assaults in 2011 was 10.2 per 100 sworn officers.
Our Law Enforcement Officers Killed and Assaulted (LEOKA) report is intended to provide law enforcement agencies with detailed descriptions of circumstances leading to officer fatalities. This data can then be incorporated into police training programs to help officers stay safe during similar situations.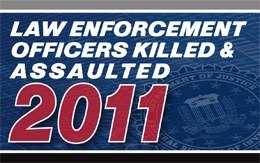 The primary goal of our overall LEOKA program is to reduce incidents of law enforcement deaths and assaults. In addition to its annual report, the program also offers an officer safety awareness training course that provides potentially life-saving information to help law enforcement personnel enhance their situational awareness during activities like arrests, traffic stops, foot pursuits, ambushes, and other high-risk encounters that police face on a daily basis.
Beyond services provided by the LEOKA program, the FBI offers additional training initiatives geared toward officer safety to our law enforcement partners.
For example:
Our one-week Law Enforcement Training for Safety and Survival program at the FBI Academy is designed to teach participants basic survival techniques as well as the skills and mindset required to identify and handle critical situations in high-risk environments (i.e., arrests, low light operations, ballistic shield deployment).
Our National Academy curriculum includes a communications course for law enforcement leaders on how to incorporate measures into their policies that will help ensure the future emotional well-being of officers who have survived shootings (as well as officers who have shot suspects).

In addition to the above training, the FBI's National Crime Information Center (NCIC)—accessed by more than 92,000 agencies—offers a measure of protection for law enforcement as well, particularly through its recently added Violent Persons File. Once fully populated with data from our users, a quick response from an online NCIC query can warn officers on the spot if, during a routine traffic stop or another type of encounter, they come across an individual who has a violent criminal history or who has previously threatened law enforcement.
The release of this latest LEOKA report clearly demonstrates what we already know—despite the dangers of law enforcement, the profession continues to attract brave men and women willing to make the ultimate sacrifice to protect their fellow citizens.
Resources:
- Press release
- Law Enforcement Officers Killed and Assaulted, 2011