From Missing Person to Murder Victim
Strong Partnerships Help Solve Rural Tennessee Case
Members of the Memphis Evidence Response Team found bone fragments at this muddy search site, which helped turn a missing person case into a murder investigation.
When the missing person report was filed for Rose Goggins, a 21-year-old mother who lived with her fiancé's parents in rural Tennessee, the response was immediate: local police, firefighters, rescue squads, and volunteers began an intensive search using floodlights and bloodhounds. Along the banks of the Tennessee River on that cold night in January 2010 where the search was concentrated, it looked like a military encampment.
It was Goggins' fiancé's father—the grandfather of her 11-month-old son—who called in the missing person report. But officers from the Wayne County Sheriff's Department soon began to doubt Steven Beersdorf's story. At the request of local authorities, our agent on the scene called in the FBI's Evidence Response Team (ERT) from our Memphis office to conduct a different kind of search.
Working in the cold and snow with local law enforcement, ERT members found flesh and small bone fragments, including a palm-sized piece of skull, on the Beersdorf property, providing critical clues that Goggins was not missing, but had been murdered—while her fiancé, a National Guard reservist, was training in Mississippi for deployment to Iraq.
"Beersdorf took extraordinary steps to dispose of the body," said Special Agent Brian Fazenbaker, who works out of our Memphis office and covers eight southern counties in Middle Tennessee. It was the painstaking work of ERT members that helped move the investigation forward, "but more than anything," Fazenbaker added, "this case is a classic example of how local, state, and federal agencies work together to solve cases, each providing their own expertise."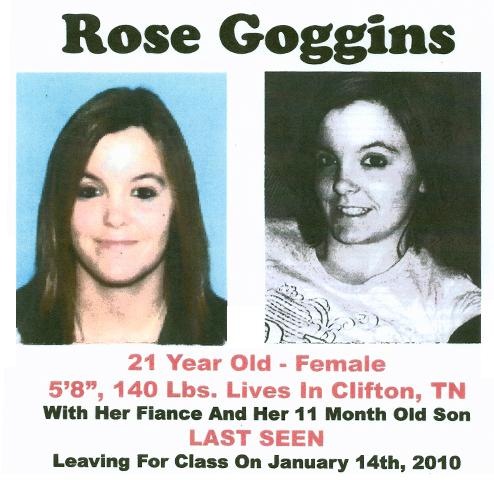 In this case, ERT's highly trained members provided the evidence, and the Tennessee Bureau of Investigation used it to identify Goggins' remains through a DNA match. The FBI also provided a victim specialist to work with members of Goggins' family who lived out of state.
"I encourage all law enforcement agencies here to work together," said Mike Bottoms, district attorney general for the 22nd Judicial District of Tennessee, who prosecuted the Goggins case. "In a rural area, you have to work together because out here, no one is completely self-sufficient."
"Investigations can be different in rural settings," Fazenbaker added. "You might be 120 miles from your office, and you have to depend on your local partners—and you know they are depending on you."
A few days after the missing person report, Beersdorf and his wife were arrested and charged with first-degree murder. Beersdorf later confessed to strangling Goggins. There had been friction in the house, Beersdorf told investigators, and on that January day it spilled over into a fight that cost Goggins her life. Last March, rather than stand trial, the couple pled guilty. Beersdorf was sentenced to life in prison. His wife, who did not participate in the murder, received a 15-year sentence.
"The FBI was extremely helpful in this investigation," said Bottoms. "When the Bureau gets involved in a case like this," he added, "it's not just for the three or four days of searching and evidence gathering. It's also a commitment to attend court hearings and participate in a trial if it comes to that."
Fazenbaker noted that agents working in rural resident agencies "pretty much handle whatever cases come in the door. Out here in these small communities," he said, "we are proud of the fact that we can really make a difference."