Cyber Alerts for Parents & Kids
Tip #1: Be Prudent When Posting Images Online
Geocoordinates are embedded in the above image, which was transmitted via a smartphone. The data make it easy to plot the sender's location on a map.
With the explosive popularity of smartphones and social media platforms, sharing photos has never been easier. Millions of pictures are uploaded to the web every day, and camera-enabled mobile phones are the perennial top-selling consumer electronic devices. So it's a safe bet that even more photos will be cropping up on image-hosting communities and personal websites.

But what exactly is being shared?
In some cases, you might unwittingly be letting others know where you live and work and your travel patterns and habits. These details can be revealed through bits of information embedded in images taken with smartphones and some digital cameras and then shared on public websites. The information, called metadata, often includes the times, dates, and geographical coordinates (latitude and longitude) where images are taken.
While the geospatial data can be helpful in myriad web applications that plot image locations, it also opens a door for criminals, including burglars, stalkers, and predators. It's not a stretch to imagine young teens' images of their ventures to the mall or beach being culled by web predators and meticulously plotted on online maps. 
"It's not something we think is happening. We know it's happening," said Kevin Gutfleish, head of the Innocent Images Intelligence Unit in the FBI's Cyber Division. The unit provides analysis and assessments of emerging threats for the operational arm of the Innocent Images National Initiative, which targets child pornography and sexual predators.
"The way that images are being posted in real time allows others who have access to see the metadata and see where the photos were taken and reveal their location at that time," Gutfleish said. 
An intelligence analyst in the FBI Criminal Division's Crimes Against Children Unit said these details can reveal a "pattern of life," particularly when images posted over time are clustered in geographic locations. 
"It doesn't have to be in real time to be dangerous," said the analyst. "Historical data can tell you a lot about individuals' day-to-day habits and may indicate where they are most likely to be at a certain time."
Disabling the Location Function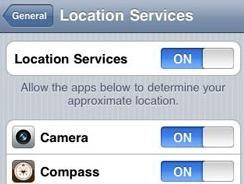 Disabling the photo geotagging function on mobile phones varies by manufacturer, but is generally a straightforward process. On one of the most popular models, users can simply navigate to the following folders:
Settings > General > Location services
The path to location-based services options varies from phone to phone. Users should take special care when enabling or disabling location services (which may include navigation functions), or disabling applications (like photos) accessing the GPS data. Consult your phone manufacturer's guidelines for more information. 

Some popular social media sites automatically scrub metadata from images before they are published. On the other hand, some leverage the data to display location information beside the images. An amateur sleuth could easily pinpoint a location using the available latitude and longitude coordinates.
"Even if they don't intentionally say where they are, the photos could reveal that," Gutfleish said. "And that could present a potential danger." 
Gutfleish said he has seen an increase in intelligence reports and complaints about the potential misuse of the metadata embedded in photos. He said the proliferation of online tools that aggregate personal information from social networking and image hosting sites is enough to urge a level of caution.
He suggests mobile phone users at the very least check the "options" or "settings" on their phones (and any applicable mobile applications) to see if they are sharing location information. In many cases, the default setting is to share location information. 
"It's just a best-practice if you don't want to give out your location," Gutfleish says. "We simply want to make sure people know this is happening." 
This story is the first in an occasional series aimed at providing practical web advice and tips for parents and their kids.