According to 2011 Preliminary Report
Preliminary figures released today indicate that the number of violent crimes and property crimes reported by law enforcement across the nation during 2011 decreased when compared to 2010 figures.
Specifically, according to our Preliminary Annual Uniform Crime Report, January-December 2011, violent crimes fell 4.0 percent, and property crimes dropped 0.8 percent. Arson—also a property crime even though its data is considered separately because of various levels of participation by reporting agencies—was down 5.0 percent overall.
Highlights from the preliminary report include:
In the violent crime category, murder was down overall 1.9 percent from 2010 figures, while forcible rape, robbery, and aggravated assault all fell 4.0 percent.
There was, however, an increase in murder in the Midwest (0.6 percent) and an 18.3 percent jump in murder in cities with populations of less than 10,000.
In the property crime category, motor vehicle theft saw the largest decline (3.3 percent) from 2010 figures, followed by larceny-theft (0.9 percent).
The only overall rise in property crimes was in the burglary category, which was up .03 percent overall, with increases of 3.2 percent in the Northeast, 1.3 percent in the Midwest, and 0.7 percent in the West.
This preliminary report includes four data tables. The first two tables show the percent change in offenses known to law enforcement for 2011 compared with those for 2010 by population group and region of the country, respectively. The third table reflects the percent change in offenses reported nationwide for consecutive years back to 2007. The fourth table presents the actual number of offenses known to law enforcement for agencies who provided 12 months of complete data and who serve a resident population of 100,000 or more.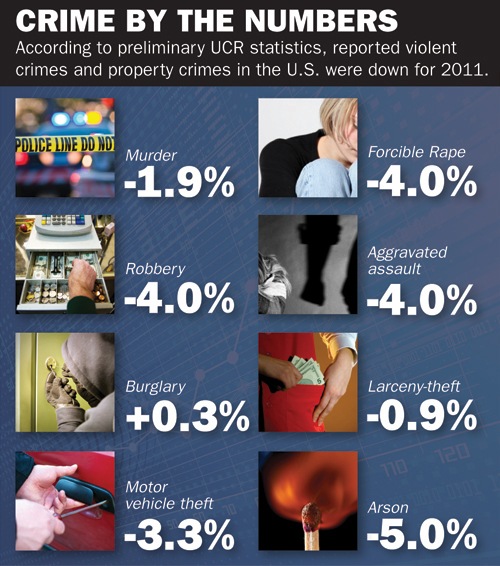 All of the final figures will be published this fall in Crime in the United States, 2011.
Submitting Uniform Crime Reporting (UCR) data to the FBI is a collective effort on the part of city, county, state, tribal, and federal law enforcement agencies to present a nationwide view of crime. Participating agencies voluntarily provide reports on crimes known to them, using uniform offense definitions. For the most part, agencies submit monthly crime reports to a centralized repository in their state. The state UCR program then forwards the data to the FBI's national UCR program, where staff members first review the information for accuracy and reasonableness, then enter it into the national UCR database.
The information is then publicly disseminated through various reports, including Crime in the United States, Hate Crime Statistics, and Law Enforcement Officers Killed and Assaulted, as well as through preliminary data reports and special reports on particular topics.
As always, the FBI cautions against drawing conclusions by making direct comparisons between cities or individual agencies—valid assessments are only possible with careful study and analysis of the unique conditions that affect each law enforcement jurisdiction.
Resources:
- Press release
- Preliminary Annual Uniform Crime Report, January-December 2011