Violation of Public Trust

Corrupt Officials Jailed for Abusing Justice System

In the run-up to the 2012 primary elections in Mingo County, West Virginia, a group of officials adopted a campaign slogan to promote their political slate: Team Mingo. But the judge, sheriff, and county prosecuting attorney who were part of the alliance—among the most powerful men in the local judicial system—used their authority to serve their own interests rather than those of the citizens who elected them.
"These men essentially ran the county's legal system," said Special Agent Jim Lafferty, who investigated the case out of our Pittsburgh Field Office. The ringleader was Circuit Court Judge Michael Thornsbury. "The judge and his team were the power in Mingo County," Lafferty explained. "They didn't like anyone who tried to oppose them. If you were an attorney or an individual who wanted to get a fair shake in the court system, you had to play whatever game they wanted you to play. It was a toxic environment."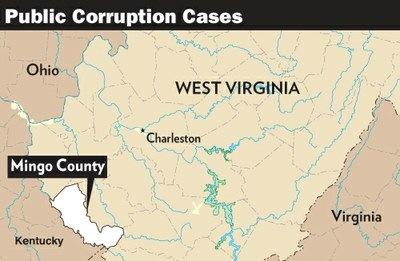 We opened a case in September 2012. Lafferty and retired Special Agent Joe Ciccarelli—with the help of West Virginia State Police investigators—uncovered evidence that Thornsbury, then-Sheriff Eugene Crum (who had formerly been the county's chief magistrate judge), and Michael Sparks, then the county's prosecuting attorney, had been engaging in corrupt activities.
Specifically, the judge coerced a local drug defendant into firing his defense counsel because Thornsbury and other Team Mingo officials, including former County Commissioner David Baisden, learned that the drug defendant was prepared to testify that Sheriff Crum had illegally received prescription pain medication and obtained unlawful campaign contributions. To protect Crum, Thornsbury and his colleagues pressured the defendant into firing his defense attorney and replacing him with another attorney handpicked by Team Mingo. After switching lawyers and pleading guilty to lesser charges, the defendant dropped his allegations against Crum and was sentenced to up to 15 years in prison.
In addition, Thornsbury was later charged with trying to frame the husband of a woman with whom he was having an affair. The judge tried to have drugs planted in the husband's car. When that plan failed, he arranged to have the man arrested for stealing scrap metal—even when it was determined the man had been given permission to take the material.
In June, Thornsbury was sent to prison for more than four years for denying residents their constitutional rights. The federal judge who sentenced him compared Thornsbury's abuses of office to the actions of a Third World dictator.
Sparks, the former prosecutor who later cooperated with our investigation, was recently sentenced to a year in prison for his role in Team Mingo's illegal activities. Others previously jailed as a result of the corruption probe include Baisden, sentenced in January to 20 months' imprisonment, and former Mingo County chief magistrate Dallas Toler, sentenced in March to 27 months in prison.
"Team Mingo controlled the legal system, and they may have thought no one would stand up against them," said Lafferty, who has been investigating public corruption and white-collar crime for more than a decade. "That didn't turn out to be the case. No matter how much power you wield," he added, "when you violate the public trust and engage in corruption, sooner or later, you will get caught."