Community Partners Recognized
2014 Director's Community Leadership Awards
Recipients of the 2014 Director's Community Leadership Award pose with FBI Director James Comey.
Creating community programs that empower at-risk and underprivileged youth. Providing support and resources for refugees from war-torn countries. Training child protective services personnel, health care workers, and other professionals to recognize and provide assistance to victims of human trafficking. Strengthening the academic experience for students in struggling schools.
Today at FBI Headquarters, 57 individuals and organizations from around the nation were recognized by Director James Comey for making extraordinary contributions—like those noted above—to education and to the prevention of crime and violence.
The Bureau has been presenting its Director's Community Leadership Awards (DCLA) for more than two decades to ordinary citizens and organizations striving to build stronger, safer, and more cohesive communities, and this latest group of honorees continues to set the bar exceedingly high.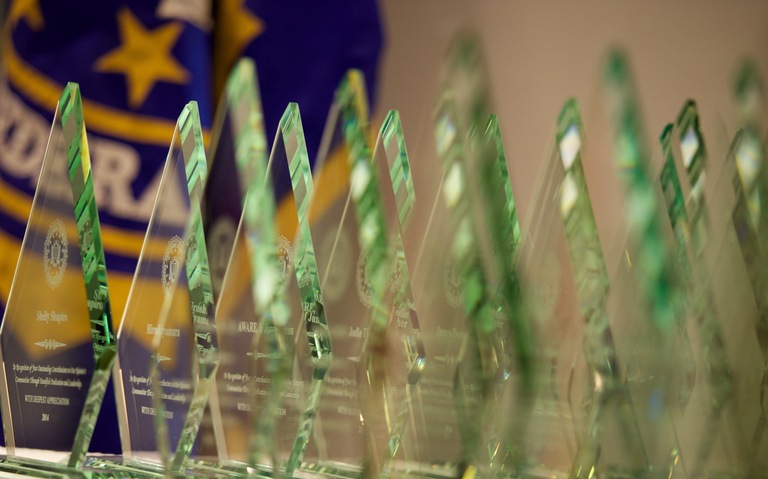 The 2014 Director's Community Leadership
Award trophies await presentation.
Comey said that there are two reasons for presenting these awards every year. First, it's an acknowledgement of the fact that part of the FBI's work of contributing to the protection of communities around the country is to "build partnerships with other people who are all about the protection of the community." And second, the awards enable the Bureau to hold the recipients up as role models of "what being a citizen really looks like, what being part of a community really looks like."
This year's DCLA honorees, as in past years, were selected by FBI field offices and represent many different sectors—non-profits, business, military, academia, the clergy, behavioral sciences, the media, sports, and civic groups. But while their backgrounds may differ, they all have the same overarching goal: Change their communities for the better and make a positive difference in the lives of other people.
Among those we honor today for their selfless actions:
A first generation Japanese-American—and Congressional Medal of Honor recipient—who mentors young students at a number of multi-cultural schools in New Mexico and inspires them to be good citizens;
An anti-violence group in North Carolina that works with a local police department to target the most violent offenders with focused messages about the impact of violence and offers to help them turn their lives around;
A marketing professional in Indiana who uses her expertise to help law enforcement solve cold cases, bringing justice for victims and ensuring closure for families;
A Florida doctor who works to facilitate cooperation and goodwill between the Sikh community and local law enforcement;
A Kentucky man who works to provide a full range of services to refugee and immigrant families moving into the city to help them successfully integrate into the community;
An Oklahoma woman who has worked tirelessly on behalf of consumers—particularly seniors—who have been victimized by financial fraudsters; and
A California organization that offers a variety of prevention and intervention programs to support victims of human trafficking.
Comey noted the diversity of the Director's Community Leadership Awards recipients—the "diversity of good in America," he called it. He added, "I was struck by how many different people from different backgrounds, with different heritages and different traditions, were all doing good but in so many different ways."