William D. Ruckelshaus (Acting), April 30, 1973 - July 9, 1973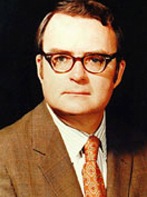 William Doyle Ruckelshaus served as Acting Director of the FBI between April 1973 and July 1973.
Mr. Ruckelshaus was born in Indianapolis, Indiana on July 24, 1932. He graduated cum laude from Princeton University in 1957 with a Bachelor of Arts. In 1960, Harvard University awarded him a J.D. and Mr. Ruckelshaus entered private practice in Indiana.
After serving in a number of state offices, Mr. Ruckelshaus was appointed to the Department of Justice and, in 1970, became the first administrator of the new Environmental Protection Agency (EPA). He served in the EPA until his appointment as Acting Director. After Director Kelley was confirmed, Mr. Ruckelshaus returned to private practice. In 1983, he returned to Washington as the fifth administrator of the EPA and served there until 1985.