John E. Otto (Acting), May 26, 1987 - November 2, 1987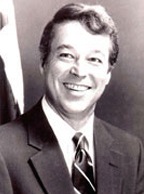 John E. Otto served as Acting Director of the FBI between May and November 1987.
He was born on December 18, 1938 in St. Paul, Minnesota. In 1960, St. Cloud States College in St. Cloud, Minnesota awarded him a Bachelor of Arts degree. Mr. Otto took graduate courses in educational administration at the University of Minnesota. On October 12, 1964, he entered on duty as a special agent, subsequently serving in the Newark and Dallas Divisions.
In March 1971, he was assigned to FBI Headquarters, where he assumed supervisory duties in the Public Affairs Office and then the Technical Services Division, the Planning and Inspection Division, and the Criminal Investigative Division. In January 1975, he was named assistant special agent in charge of the Portland Division. Over the next decade, Mr. Otto served in a number of leadership capacities in the field and at Headquarters, including positions as an special agent in charge and an assistant director. After serving as Acting Director in 1987, Mr. Otto retired from the Bureau.