FBI Recovers Stolen Charles Darwin Letter
Special agents from the FBI returned a recovered Charles Darwin letter to the Smithsonian Institution Archives, the FBI Washington Field Office announced.
The letter, penned by the renowned naturalist and geologist in 1875, was stolen from the Smithsonian more than three decades ago. It was recently recovered by the FBI following a public tip regarding the letter's whereabouts. On May 26, 2016, Assistant Director in Charge Paul Abbate of the FBI Washington Field Office returned the letter to Smithsonian Institution Archives Director Anne Van Camp after an investigation by special agents from the FBI Art Crime Team.
"Thanks to a tip from a member of the public and the hard work of FBI special agents and Smithsonian employees to track and authenticate the Charles Darwin letter, we were able to return this artifact to the care of the Smithsonian Archives," said Assistant Director Abbate. "It's a privilege to return a piece of the history of science and exploration in the United States to the American people."
"We are so grateful to the FBI and their agents on the Art Crime team for recovering this letter and returning it to the Smithsonian Archives," said Van Camp. "This is an important event as this type of crime is not easily detected, and it demonstrates how seriously the FBI regards our cultural heritage."
The Darwin letter was part of the George Perkins Merrill Papers, a collection of correspondence and documents relating to the history of North American geology. In the letter, Charles Darwin wrote to American geologist Ferdinand Vandeveer Hayden to thank him for sending two geological field studies of the American West, including of the region that soon after became Yellowstone National Park.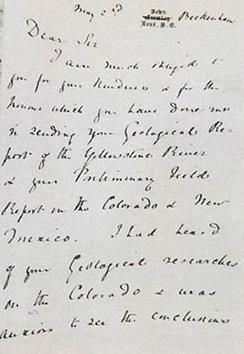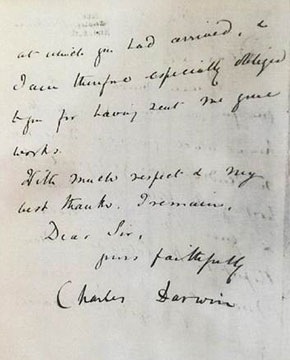 The text of the letter reads as follows:
May 2nd
Dear Sir,
I am much obliged to you for your kindness & for the honour which you have done me in sending your Geological Report of the Yellowstone River & your Preliminary Field Report on the Colorado & New Mexico.  I had heard of your Geological researches on the Colorado & was anxious to see the conclusions at which you had arrived, & I am therefore especially obliged to you for having sent me your works.
With much respect & my best thanks, I remain,
Dear Sir,
yours faithfully
Charles Darwin
The letter was stolen from the Smithsonian Archives in the mid-1970s, shortly after the Archives received the Merrill Papers but before the letter could be inventoried.
The FBI established a rapid deployment Art Crime Team in 2004. The team is composed of special agents from around the country, each responsible for addressing art and cultural property crime cases in an assigned geographic region. Art Crime Team agents receive specialized training in art and cultural property investigations and assist in art related investigations worldwide in cooperation with foreign law enforcement officials and FBI legal attaché offices.
Since its inception, the Art Crime Team has recovered more than 2,650 items valued at over $150 million.