Public Affairs Officer Andrea Aprea
FBI and Law Enforcement Partners Seeking Information on Multi-Jurisdictional Serial Bank Robber
The FBI and local law enforcement authorities in nine Florida cities are jointly investigating a series of bank robberies committed throughout the East Coast and Central Florida region. The robber has randomly targeted TD Bank branches in nine separate cities.
The robberies were committed between December 2013 and April 2014. Investigators strongly suspect the same individual is responsible for all nine robberies. Law enforcement authorities are asking for the public's assistance.
Anyone with information about the suspect or the robberies should call their local law enforcement agency or call Crime Stopper at 1-800-423-8477. Crime Stopper and Crimeline Programs in Florida are offering a cash reward for information leading to an arrest in this matter. All callers will be kept anonymous.
During the robberies, the suspect was observed wearing multiple types of clothing, varying his appearance. The most consistent articles include sunglasses and a hat.
Clear Channel Outdoor (CCO) is assisting law enforcement authorities in this matter. As a result of a longstanding partnership with the FBI, CCO is displaying related information on their digital billboard networks in the Orlando and Tampa markets as a public service.
The suspect has been described as follows:
Race: White
Sex: Male
Height: Approximately 6'0" to 6'2"
Weight: Approximately 200 pounds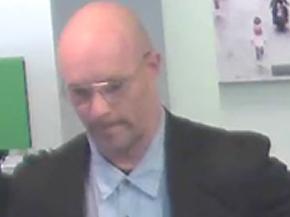 TD Bank robbery locations:
| | |
| --- | --- |
| December 29, 2013 | 1238 U.S. Highway 1, Vero Beach, Florida |
| February 6, 2014 | 3600 North Federal Highway, Lighthouse Point, Florida |
| March 29, 2014 | 4675 South Kirkman Road, Orlando, Florida |
| April 3, 2014 | 2675 West SR 434, Longwood, Florida |
| April 8, 2014 | 901 Cypress Gardens Blvd, Winter Haven, Florida |
| April 12, 2014 | 1025 South Babcock Street, Melbourne, Florida |
| April 13, 2014 | 7345 West Oakland Park Blvd, Lauderhill, Florida |
| April 15, 2014 | 6108 U.S. 98 North, Lakeland, Florida |
| April 21, 2014 | 1101 Dunlawton Avenue, Port Orange, Florida |