Wehrenberg Theatres Partners with the FBI to Raise Awareness About Laser Threats to Aircrafts and Other Public Safety Messages
Edward W. Reinhold, Acting Special Agent in Charge (A/SAC) of the FBI St. Louis Division, has announced that Wehrenberg Theatres will partner with the FBI to help spread the word on various public safety messages, as well as Amber Alerts. Wehrenberg has offered, as a public service, to show the messages during movie previews. The brief messages will be shown when space is available on any of its 218 movie screens. Wehrenberg owns 16 theatres located in Missouri, Illinois, Iowa, and Minnesota.
The partnership launched today with the FBI's nationwide campaign to address the threat of lasing, the act of aiming a laser at an aircraft. "We are extremely appreciative of this invaluable service offered by Wehrenberg. By helping to spread the word about the dangers of lasing, it could potentially prevent a catastrophe," said A/SAC Reinhold. "I would rather prevent any fatal consequences than put someone behind bars because he or she did not know pointing a laser at an aircraft can temporarily blind a pilot." To watch an FBI simulation, visit http://www.fbi.gov/news/stories/2014/february/protecting-aircraft-from-lasers.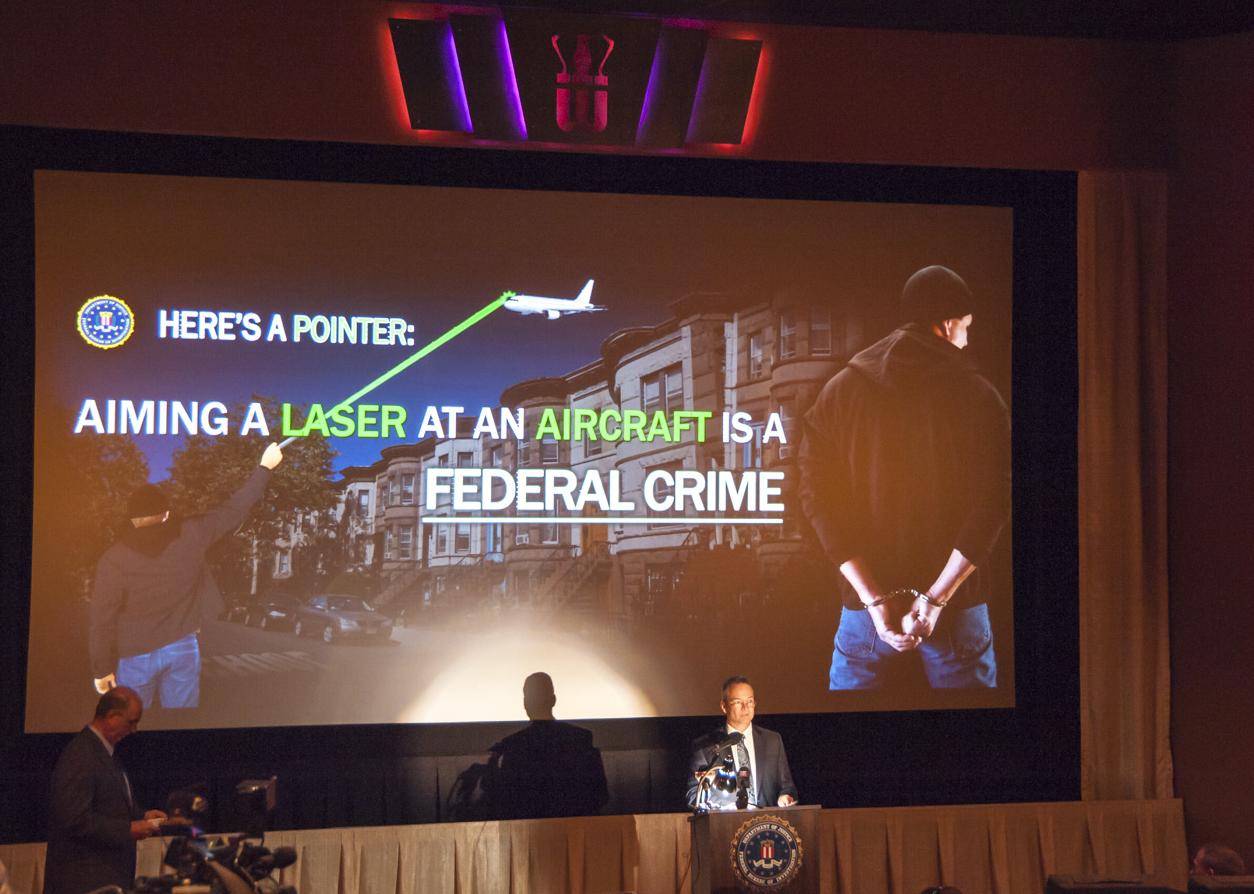 A/SAC Reinhold speaks at the press conference.


Ronald P. Krueger, chairman and CEO of Wehrenberg Theatres, said, "Our partnership with the FBI demonstrates how much we value the safety of our neighbors and our children. We are honored to assist the impressive work and training of the FBI. Whether it's preventing dangerous situations or helping families going through the unthinkable, we are proud to offer our resources."
Executive Vice President Bill Menke added, "This cooperation is a perfect example of national and local entities working together for the good of our communities. By acting swiftly and in conjunction with the FBI, we hope our services can reunite a family,or simply educate guests about potential danger. This partnership is worthwhile even if we're never called upon. Of course if one child is saved, or if one disaster is avoided, the value is immeasurable."
The partnership between the FBI and Wehrenberg is a result of the knowledge gained by Mr. Krueger, when he attended the FBI Citizens Academy. In keeping with his company's efforts to protect children and families, Mr. Krueger offered to help the FBI in whatever way possible. Wehrenberg Theatres, based in St. Louis, is the oldest family-owned and operated theatre chain in the country.
- Related press release: FBI Launches National Campaign to Address Laser Threat to Aircraft