FBI is Seeking Information Regarding Bank Robbery at Illini Bank Branch in Auburn
At approximately 2:00 p.m. on Thursday April 24, 2014, the Illini Bank branch at 1311 West Jefferson, Auburn, Illinois, was robbed at gunpoint.
The subject is described as a white male, 6 feet tall and weighing approximately 180 pounds. He was wearing a dark hooded sweatshirt, blue jeans, and a baseball cap.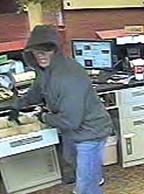 The subject displayed a handgun and demanded money from the teller. The subject left the bank on foot to the East on Jefferson. There were no injuries reported.
If anyone has information regarding the subject, please contact the FBI at 217-522-9675.