Task Force Seeks Summertime Heat Robber
The Seattle Safe Streets Task Force is seeking information about a bank robber nicknamed the "Summertime Heat Robber."
The unidentified bank robber is believed to have robbed at least two different banks in the past week, most recently in Issaquah on June 25.
The subject may be a white male, between 5'5" and 5'9" tall, with thin, dark hair. During the robberies, he has worn black sunglasses and a dark baseball cap, which led investigators to give him a nickname that acknowledges the robber's penchant for sun protection. He has also worn different hooded sweatshirts, and gloves in at least one robbery. He implies that he has a weapon.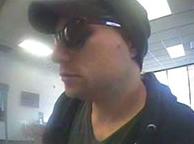 The subject is wanted for his alleged involvement in at least two bank robberies:
June 21, 2014—Wells Fargo, Des Moines, Washington
June 25, 2014—Key Bank, Issaquah, Washington
Anyone with information as to the identity or whereabouts of the suspected robber should refrain from approaching him and is urged to contact law enforcement immediately.
Anyone with information that can help identify this individual is asked to call Crime Stoppers at 1-800-222-TIPS (8477). Callers to Crime Stoppers may remain anonymous and are eligible to receive a cash reward of up to $1,000 if the information given leads to an arrest and charge of the person(s) involved. Callers may also contact task force officer Detective Steve Hoover at 425-452-7868.
The Seattle Safe Streets Task Force includes members from the FBI, Bellevue Police Department, Auburn Police Department, King County Sheriff's Office, and Seattle Police Department.