(858) 320-1800 | SDPublicAffairs@fbi.gov
FBI and San Diego Sheriff's Department Seek the Public's Assistance to Identify U.S. Bank Branch Robber
A bank robber who threatened to shoot a bank teller during a holdup at a Spring Valley, California bank is being sought by the FBI and San Diego Sheriff's Department.
On Wednesday, July 30, 2014, at approximately 6:58 p.m., an unknown male entered the Albertsons grocery store located at 9831 Campo Road, Spring Valley, California, and robbed the U.S. Bank located inside of the store.
At the time of the robbery, the robber entered the store and walked over to the area of the U.S. Bank and waited in the customer line. After waiting for the teller to finish helping another customer, the robber walked up to the teller counter and made a verbal demand for money.
The verbal demand included expletives and a threat to shoot the teller in the head. The robber placed a gray plastic shopping bag on the counter which appeared to contain an unknown solid object. The teller complied with the robber's demand and provided him with a sum of money. After receiving a sum of money the robber exited the store.
Witnesses described the robber as follows:
Sex: Male
Race: White
Height: Approximately 6'0" tall
Weight: Approximately 190 pounds
Hair: Blonde/brown
Age: Approximately 25-30 years old
Clothing: Light green shirt with stripes and khaki shorts
Bank surveillance photographs from the U.S. Bank, located inside of the Albertsons grocery store, 9831 Campo Road, Spring Valley, California, on Wednesday, July 30, 2014.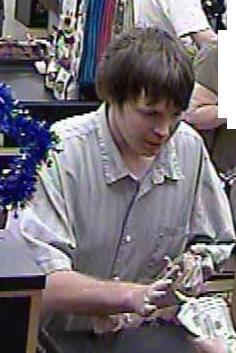 Anyone with information concerning this robbery is asked to contact the FBI at telephone number (858) 320-1800 or San Diego Crime Stoppers at (888) 540-8477.
To view more photographs of wanted San Diego bank robbers please visit https://bankrobbers.fbi.gov/.