(858) 320-1800 | SDPublicAffairs@fbi.gov
FBI and San Diego Police Department Seek Public's Assistance to Identify Union Bank Robber
The FBI and San Diego Police Department are seeking the public's assistance to identify the unknown male responsible for robbing the Union Bank branch at 16880 Bernardo Center Drive in San Diego, California, on Friday, November 14, 2014.
On Friday, November 14, 2014, at approximately 4:58 p.m., the Union Bank branch located at 16880 Bernardo Center Drive in San Diego, California, was robbed by an unknown elderly male dressed in a hat, blazer and carrying a duffel bag.
At the time of the robbery, the unknown male (hereinafter referred to as the robber) presented two different demand notes for cash. The demand notes threatened the robber was armed with an explosive device and demanded specific denominations and amounts. The robber placed the alleged explosive device referred to in the demand note on the counter and verbally demanded money. The device had wires and an antenna attached to the device. The robber also pointed a small pistol at the teller and threatened the teller with the weapon.
The teller complied with the robber's demands and provided him with a sum of money. The robber placed the money inside of a purple duffel bag that he placed on the counter. After receiving a sum of money the robber exited the bank. No injuries were reported during the robber.
Witnesses describe the robber as follows:
Sex: Male
Race: White
Height: Approximately 5'5" to 5'6" tall
Build: Medium
Age: Mid- to late 60's
Clothing: Light blue/gray jacket, light-colored hat with brim, dark glasses, purple zip-up sweater, purple duffel bag, and silver watch worn on left wrist
Bank surveillance photographs from the Union Bank, 16880 Bernardo Center Drive, San Diego, California, on Friday, November 14, 2014: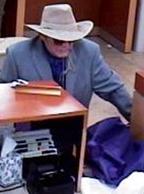 Anyone with information concerning this robbery is asked to contact the FBI at telephone number (858) 320-1800, submit a tip via the Internet at https://tips.fbi.gov or call Crime Stoppers at telephone number (888) 580-8477.
This robber is considered armed and dangerous.