Searching for Two Final Fugitives

Updated August 10, 2018: After 12 years on the run, fugitive Joseph Dibee has been apprehended. More information.

The 1998 arson of a Colorado ski resort by a group known as The Family drew international attention to eco-terrorists—those who break the law in misguided and malicious attempts to protect the environment and animal rights.
On December 7, 2005, FBI agents and members of the Joint Terrorism Task Forces (JTTFs) in Oregon, Washington, Arizona, Virginia, and New York initiated the takedown of the most prolific domestic terrorism cell of the time: The Family. The case—Operation Backfire—was considered a "major case" by the FBI, meaning the investigators were able to draw on additional resources from across the country as they identified, charged, and arrested those responsible. Although the FBI's Portland Division managed the case, agents from Seattle, Denver, and Sacramento all played significant roles. 

In all, FBI agents tied The Family, as the members called themselves, to more than 40 criminal acts ranging from vandalism to arson between 1995 and 2001. The total estimated costs of those criminal acts hit $48 million. The cell's 1998 arson attack on a ski resort in Vail, Colorado was its most notorious crime: estimated damage for this one event was $26 million.
In all, a federal grand jury in Oregon indicted a total of 17 people, 15 of whom pled guilty. The various JTTFs involved picked up most of those charged in that sweep that started in December 2005. A few remaining fugitives, including Justin Solondz and Rebecca Rubin, were either captured or turned themselves in.
Two others remain fugitives: Josephine Sunshine Overaker and Joseph Dibee.

An age-progressed photo depicts wanted fugitive Josephine Sunshine Overaker at 41.
As we worked through the investigation, we learned that despite how close The Family members were personally, they usually didn't share information amongst themselves. Oftentimes, the only ones who knew about a specific action were the ones who actually participated in that action. Even those who were in personal relationships with other members would deliberately keep those personal partners in the dark.
The 15 who we have prosecuted received sentences of between 37 months and 188 months in federal prison. The length of the sentence was, in part, determined by how many specific acts each individual participated in, the degree of damage, and the willingness to accept responsibility.
Case Agent Tim Suttles talks about the continuing search for remaining fugitives Josephine Sunshine Overaker and Joseph Dibee.
Q: Where does the fugitive hunt stand right now? What's new?
Tim Suttles: For Josephine Overaker, we worked with specialists at the FBI Laboratory to create an age-progressed image of what she might look like now. There are no known sightings of her since she disappeared in 2003, so we are relying on this tool to help us in our search. I encourage people who may have suspicions about a particular person to take a look at that age-progressed image, check out the other details about her on the wanted poster, and give us a call if you think you might have information.
There is the possibility that she spent time in Spain. We know there were "direct actions" in 2006 in Spain dedicated to the memory of William Rodgers. Investigators believe Rodgers was a leader within The Family, but he died before the case made it to trial. Beyond that, Overaker is fluent in Spanish, and I think she may have found kindred spirits amongst anti-government forces in Spain or in other parts of Europe.
As for Joseph Dibee, we've believed that he has been in Syria for some time. Given the political and military situation there, it is difficult to know his status.
Q: What should people know about Overaker that might help you catch her?
Suttles: Her tattoo along her back is very distinctive. It is an image of a bird, running from her right upper arm across her upper back. She has another unknown tattoo on her upper left arm, and scars on her ankles, right calf, and right thigh. She is fluent in Spanish and, based upon her previous experiences, may look for a job as a firefighter, midwife, sheep tender, or masseuse. Years ago she was a drug user, so there is the possibility that she still has substance abuse issues. She was living a vegan lifestyle and may still be.
Q: What about Joseph Dibee?
Suttles: There's not much in the way of scars and tattoos that we know of that could be used to identify him, but he was a computer software tester at one point and has technology-based skills.
Dibee's family comes from a Christian region of Syria, so given the current conflict between the government forces, ISIL, and others, that could certainly have an impact on his ability to work and function in that country.
Q: What about the rewards? How do people send in tips?
Suttles: The FBI is still offering rewards of up to $50,000 for information leading to the arrest and conviction of both Overaker and Dibee. People can contact their local FBI office or submit a tip online.
Q: What else do we know about The Family?
Suttles: The Family was a terrorist cell of about 20 people who committed crimes in the Pacific Northwest and western U.S. in the name of the Animal Liberation Front (ALF) and the Earth Liberation Front (ELF). By the time it disbanded in 2001 under pressure from our investigations, the group was responsible for at least 25 criminal actions totaling about $48 million in damages. Their crimes included vandalism, property damage, animal releases, and arson.
Wanted Poster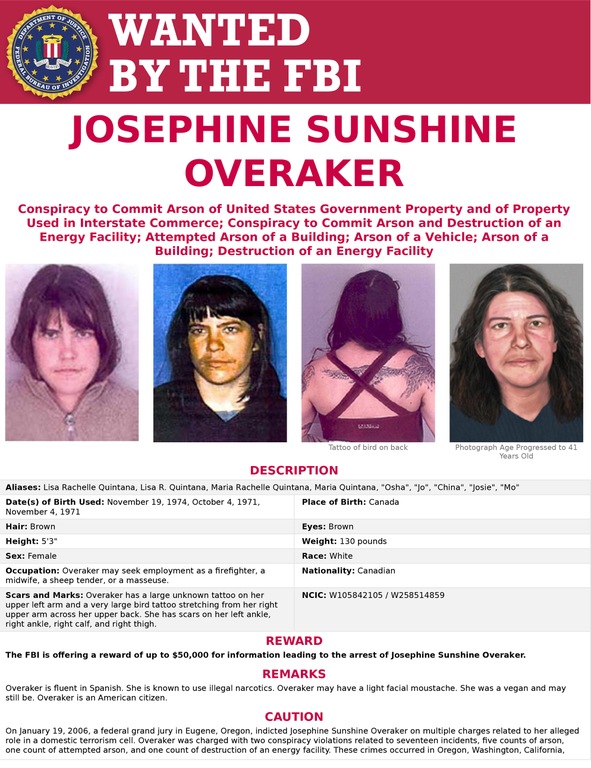 Overaker has a distinct tattoo on her back.