FBI New York Press Office
On the 13th anniversary of the September 11 terrorist attacks, the FBI's New York Field Office honored victims during an inaugural 9/11 Memorial Run/Walk and an early morning memorial service.
Dozens of participants gathered in front of 26 Federal Plaza around 7:00 a.m. to begin their journey to the National September 11 Memorial and Museum in Lower Manhattan. Carrying two commemorative 9/11 flags, the group paused at the Police Memorial on Liberty Street and South End Avenue before heading over to the New York City firehouse Engine 10/Ladder 10, also located on Liberty Street near the September 11 Memorial site. After observing a moment of silence at both locations, attendees returned to the office in time for the annual memorial service.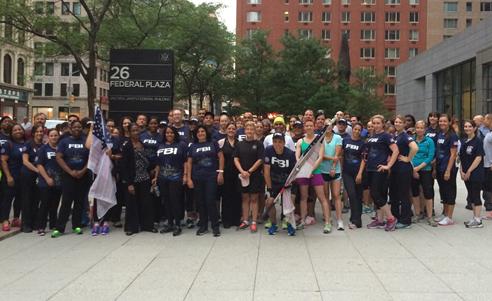 Within hours of the September 11 attacks, the FBI launched the largest investigation in the Bureau's history. Still reeling from the trauma caused by the tragic events, employees of the New York Field Office set up multiple command posts to accommodate additional resources and personnel.
During the memorial service, Assistant Director in Charge George Venizelos recounted the events of that fateful morning and highlighted the office's contributions in the days and weeks following the attacks. He paid tribute to those lost, including family members and friends of FBI employees. Among the victims were FBI Special Agent Leonard Hatton and retired FBI Special Agent in Charge John O'Neill. Hatton, who was on his way to work as the tragic events unfolded before him, rushed to the scene to help and lost his life in the process. O'Neill was working as director of security for the World Trade Center when the attacks occurred.
"I'm proud of the men and women of the Bureau," said Venizelos of the FBI's commitment to protecting the nation against future attacks.