Public Affairs Officer Leonard Peace
FBI Milwaukee Presents Martin Luther School the Safe Online Surfing Internet Challenge Award
On Thursday, November 12, 2015, Martin Luther School (MLS) in Oshkosh, Wisconsin was presented with the FBI-Safe Online Surfing (FBI-SOS) Internet Challenge's national award. Under the guidance of teacher Brad Evers, MLS students posted the best cumulative score in the country in the Starfish category (schools with 5-50 participants).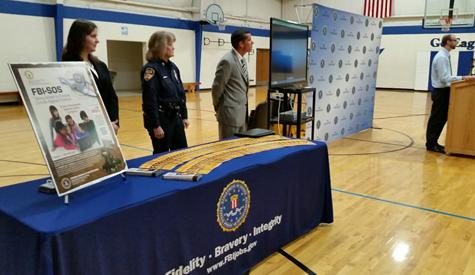 Martin Luther School teacher Brad Evers pictured on right, is joined by representatives from the
FBI Milwaukee Division and the Oshkosh Police Department during FBI-SOS award ceremony.
Martin Luther School is the first school in Wisconsin to receive this national recognition from the FBI. The school was evaluated and designated for the FBI-SOS award in May 2015. Assistant Special Agent in Charge Joseph Lear and Public Affairs Specialist Leonard Peace visited Martin Luther School to congratulate the students and present the FBI-SOS award certificate.
<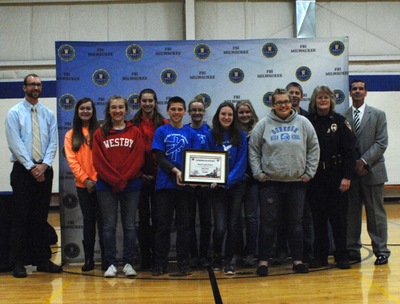 Eighth-grade students from Martin Luther School display the FBI-SOS certificate
with FBI and Oshkosh Police representatives.
FBI-SOS is a free initiative designed to educate third through eighth grade students about cyber safety. All public, private, and home schools are eligible to participate in this entertaining and educational web-based program, which can be accessed year-round—in the classroom or at home.
The website features six grade-specific "islands." Each island includes seven or eight learning portals for students to visit. Using games, videos, and interactive features, these areas address the protection of personal information, password strength, cell phone safety, social networking, and online gaming safety, among other topics. The videos include real-life stories of kids who have faced cyberbullies and online predators.
After students have completed all activities on their island, they are given an exam. Each month of the academic year, schools compete for the national award in one of three categories, determined by the number of students participating from each school: Starfish (5-50 participants); Stingray (51-100); and Shark (100+).
Kids of all ages—and even adults—can explore the site, play the games, watch the videos, and learn about cyber safety. However, the exam used for competing can only be taken by third to eighth grade students whose classes have been registered by their teachers.
The FBI-SOS Internet Challenge was developed with the assistance of the National Center for Missing and Exploited Children with input from teachers and schools. FBI-SOS is available at sos.fbi.gov; visit the website for more information or contact the FBI Milwaukee Division's Office of Public Affairs at (414) 291-4892.