FBI Jacksonville Employees Honored During FBI Appreciation Network Luncheon

Employees of the FBI Jacksonville Field Office were honored Wednesday, April 16, 2014, during the first annual FBI Appreciation Network (FAN) luncheon. The event was hosted by the FBI Citizens Academy Alumni Association Jacksonville Chapter, in partnership with the Society of Former Special Agents of the FBI and the Society of FBI Alumni.
The outdoor event began with FBI SWAT team members rappelling from the top of the four-story field office off Gate Parkway to the cheers of a crowd below. Displays from SWAT, the FBI Evidence Response Team, and the FBI bomb technician were on hand for attendees to view and learn more about the capabilities of the FBI. Ellen Glasser, national president of the Society of Former Special Agents of the FBI, presented awards for the Special Agent of the Year and Professional Support Staff Person of the Year, as well as a Humanitarian Award for an employee doing exemplary work in the community.
"Without fanfare, FBI special agents, task force officers, and professional support employees work tirelessly and quietly at their sworn duties, dedicated to preserving our cherished American values and to upholding the rule of law. Their selfless efforts and high achievements are deeply appreciated by those they serve. Today, the Society of Former Special Agents of the FBI recognizes their exemplary service to the FBI, to our community, and to our nation," Glasser said.
Working special agents and support staff mingled with former employees and FBI Citizens Academy graduates, sharing experiences in conversation over a meal provided by the organizing groups. Taking the brief pause from the work of the day was important, FBI Jacksonville Special Agent in Charge Michelle S. Klimt said. She added that the event was well-received by the office and served as an excellent way to maintain a connection with citizens interested in the FBI and its mission.
"As a law enforcement agency, we're in a line of work that is demanding both professionally and personally. It was nice to see our hard-working men and women recognized in this way for their diligence in keeping our communities and nation safe," SAC Klimt said. "The fact that this event was conceived, planned, and hosted by active members of the community makes the honor even more special to us."

Pete Miller (right), president of the FBI Jacksonville Citizens Academy Alumni Association, receives a hug to go along with a recognition award from Ann Dugger, executive director of the Justice Coalition, during the first annual FAN luncheon.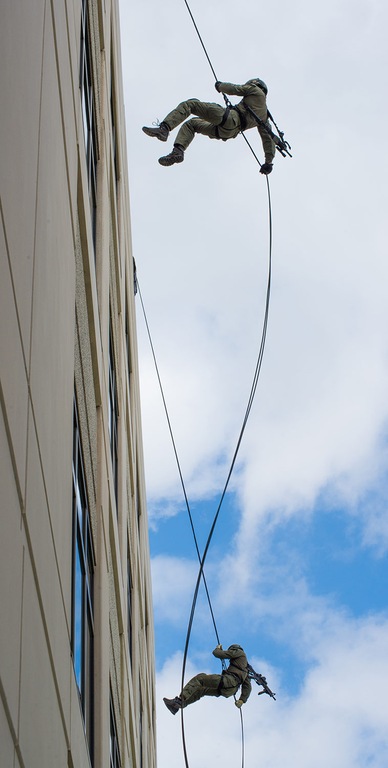 FBI Jacksonville SWAT team operators rappel from the field
                             office building before the start of the first annual FBI Appreciation
                             Network luncheon. 
"As a law enforcement agency, we're in a line of work that is demanding both professionally and personally. It was nice to see our hard-working men and women recognized in this way for their diligence in keeping our communities and nation safe," SAC Klimt said. "The fact that this event was conceived, planned, and hosted by active members of the community makes the honor even more special to us."