FBI Houston Launches Spanish Twitter Handle @miFBIHouston
FBI Houston makes history by launching the Bureau's first Spanish-language social media account—@miFBIHouston on Twitter, which means "my FBI Houston" in English.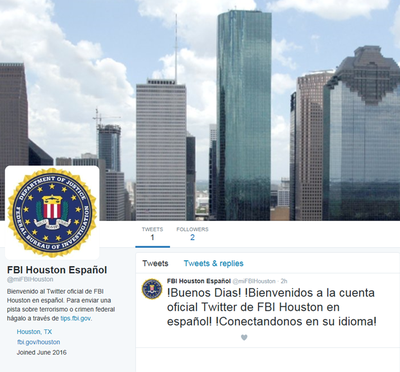 "In order for the FBI to accomplish its mission, which is to protect the American people, we have to identify and implement effective ways to communicate with the diverse communities we serve," says Special Agent in Charge (SAC) Perrye K. Turner of the FBI Houston Field Office. "That includes the rapidly growing Hispanic community, which in the Houston metropolitan area represents over 36 percent of the population."
FBI Houston launched its English Twitter account in August 2015 and has been tweeting in Spanish since December 2015.
With a Twitter account now dedicated exclusively to communicating in Spanish, @miFBIHouston hopes to reach thousands of Hispanics, many whose first and only language is Spanish.
"In the global environment we live in, social media is the preferred method of communication for a large number of our population, both young and old. Social media has become a principal source for news and information," added SAC Turner. "It makes perfect sense for us to expand our use of social media to engage the public we serve, including the Spanish-speaking social media users."
Although based in the Houston metropolitan area, FBI Houston's area of responsibility includes 40 counties in and around the Texas Gulf Coast and has four satellite offices, known as resident agencies, in Beaumont, Bryan/College Station, Corpus Christi, and Texas City.
FBI Houston uses Twitter to post wanted fugitives' photos, arrest and criminal charge information, safety tips and messages, community outreach efforts and events, and more.
Please follow us on Twitter at @miFBIHouston and @FBIHouston!
---
FBI Houston Lanza Cuenta de Twitter en Español
La Primera Cuenta en español del FBI en las Redes Sociales
FBI Houston hace historia al lanzar la cuenta de Twitter en español @miFBIHouston, la primera cuenta en español del FBI en las redes sociales.
"Para que el FBI pueda cumplir con su misión, que es proteger al pueblo estadounidense, tenemos que identificar e implementar medios eficaces para comunicarnos con las diversas comunidades que servimos," dice el Agente Especial a Cargo Perrye K. Turner de la oficina del FBI en Houston. "Eso incluye la rápidamente creciente comunidad Hispana, la cual, en el área metropolitana de Houston, representa más del 36 por ciento de la población."
FBI Houston lanzo su cuenta Twitter en ingles en agosto del 2015, y ha estado publicando tuits en español desde diciembre 2015.
Con una cuenta Twitter dedicada exclusivamente para comunicarse en español, FBI Houston espera alcanzar en su idioma a miles de hispanos- muchos de ellos cuyo primer y único idioma es el español.
"En el ambiente global que vivimos las redes sociales son el método preferido de comunicación para una gran numero de nuestra población, chicos y grandes. Las redes sociales se han convertido en una fuente principal de información y noticias, ̈ agrego el Agente Especial a Cargo Turner. ̈Es perfectamente lógico para nosotros ampliar nuestro uso de las redes sociales para involucrar en la conversación al publico que servimos, incluyendo a los usuarios hispanoparlantes de las redes sociales ̈.
Aunque con base en el área metropolitana de Houston, FBI Houston es responsable por un área que incluye 40 condados cerca de y a lo largo de la costa Tejana del golfo, y cuenta con cuatro oficinas satélite, conocidas como agencias residentes, en Beaumont, Bryan/College Station, Corpus Christi, y Texas City.
FBI Houston usa Twitter para publicar fotos de fugitivos buscados, información sobre arrestos y cargos criminales, consejos y mensajes sobre la seguridad, esfuerzos y eventos comunitarios, y más.
Por favor ¡síganos en Twitter a través de @miFBIHouston y @FBIHouston!