Special Agent Mara Schneider
FBI Seeks the Public's Help Identifying a Bank Robber
Paul Abbate, Special Agent in Charge of the FBI Detroit Field Office, announced that the FBI is seeking the public's help identifying the individual(s) responsible for the August 31, 2014 robbery of a TCF Bank branch in Dearborn Heights.
On August 31, 2014, at approximately 12:00 p.m., an unidentified black male entered the TCF Bank branch located at 25488 Michigan Ave. in Dearborn Heights, Michigan, presented a handgun and demanded money from two bank tellers. The suspect was described as a black male, approximately 6'1" tall and 225 pounds, and wearing a striped shirt, blue jeans, a black baseball cap and sunglasses. After stealing an undisclosed amount of money, the suspect exited the bank and fled the scene on foot.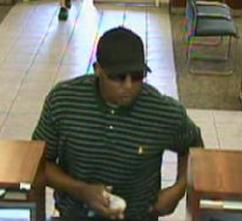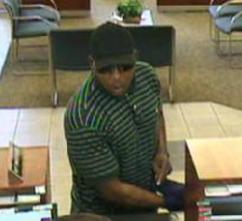 The investigation is being worked by the FBI Detroit Field Office, Violent Crime Task Force (VCTF). The VCTF is comprised of Special Agents with the FBI Detroit Field Office; and state and local law enforcement officers with the Michigan State Police; Wayne County Sheriff's Office; and the Detroit, Detroit Public Schools, Hamtramck, and Harper Woods Police Departments.
Members of the public should not try to apprehend the suspect(s). Anyone with information may contact the FBI Detroit Field Office 24 hours a day at 313-965-2323 (select option 1).